1922
A report from the French secret services confirmed that Nguyen Ai Quoc, an alias of Ho Chi Minh, frequented the headquarters of the Communist Party of France at 120 La Fayette, Paris, and the offices of Le Journal du Peuple and L'Humanité.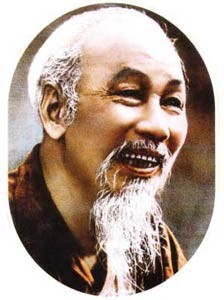 File photo of President Ho Chi Minh
1923
In a letter sent from Russia to the Central Committee of the Communist Party of France, Nguyen Ai Quoc put an emphasize on the need for executing resolutions passed by the Communist International on colonial issues.
1946
During his stay in France, President Ho Chi Minh gave a dinner for the former French Prime Minister, Léon Blum, in Paris and talked with Algerian parliamentarians about a model for the French Union.
The same day, he welcomed a delegation from France's General Confederation of Labor, which informed him that the World Federation of Trade Unions had recognized the Vietnam Trade Union.
1947
In a letter to give advice to the Socialist Party of Vietnam, President Ho Chi Minh wrote: "At present, all of the parties share a political conception: resolutely pursuing the resistance war to claim independence and freedom for our fatherland. As for other political organizations and the public, a common policy they should adopt is to show great unity."
1951
In "Emulation of patriotism: Reality and glorious future of our country," published in Nhan Dan (The People), President Ho Chi Minh wrote: "The patriotic movement has three targets: eliminating hunger, eradicating illiteracy and fighting foreign invaders. That means making the people well and literate, making our country free and independent.
"To this end, everybody must emulate to achieve good performances in their work, no matter what jobs they are doing. Soldiers must fight the enemy, the people must step up production. Although the achievements we have gained are still modest, they are like swallows to give signals of a coming spring. They are also the momentum for us to get better results in the future."
1966

President Ho Chi Minh received French President De Gaulle's letter that was handed to him by the French envoy, Jean Sainteny, in Hanoi.
Talking with his guest, President Ho Chi Minh said: "We are well aware of our enemy's strength. We well know that the Americans can destroy this city if they want to, just like what they have done to other major cities, such as Hai Phong, Nam Dinh and Bac Ninh. We are waiting for and ready to face their coming. Their strength cannot dishearten our will to struggle.
"There is only one solution to the war: Americans should get out of Vietnam. We do not do anything bad to them. We are willing to see them off with flowers and music or anything they like. But you know, we like the phrase in your language: "Qu'ils foutent le camp," which roughly means "Get away with you!"
1967
President Ho Chi Minh sent a letter of praise to a platoon of female militia in Hau Loc District, Thanh Hoa Province, for their shooting down a US jet fighter.

By Duong Trung Quoc* and co-writers
*The author is a historian and member of the National Assembly