July 7

1939

In Notre Voix, a newspaper published in Vietnam in French by communists, a signed column titled "Letter from China," appeared under the name of P. C. Lin, a pseudonym of Ho Chi Minh. The column exposed activities that betrayed the Chinese's fight against Japanese troops.
1946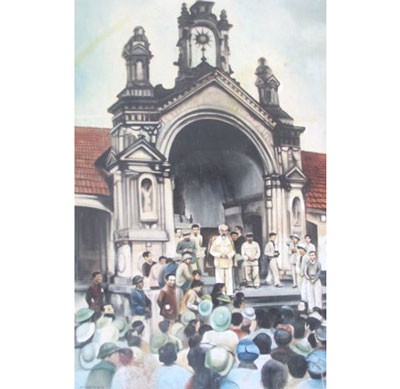 President Ho Chi Minh talks with Catholic people at Anton temple in District Thanh Oai, in Hanoi (undated filed photo)
President Ho Chi Minh met some overseas Vietnamese people and invited General Raoul Salan's families to eat with him in Paris. The President also participated in a fireworks festival at Versailles Palace held to welcome his delegation.
1952

Speaking at a conference titled "North Guerilla," the President said: "We wage a protracted resistance war but we will surely achieve victory. Since it is going to be a long-term war we must fight until the enemy gets out of our country and not be hasty. Furthermore, for carrying out an arduous and protracted war, we must stand on our own feet. A nation does not deserve to achieve independence if it depends on other countries' assistance."
In addition to talking about weak points, he said; "For a regular army, local soldiers, or guerillas, it is important to lean on people. Living with people and winning their hearts and trust will help you get close to success despite of whatever difficulties."
1954

After Nhan Dan newspaper published an article "French Catholic people protested the war in Vietnam," the President made an appeal: "French Catholics have shown the right attitude towards the war and Vietnamese parishioners who were misled into betraying the nation should show repentance and the desire to redeem their faults."
On the same day, he mentioned the issue in Cuu Quoc (National Salvation) newspaper, stressing: "Those who are faithful to God devote their lives to world peace."
1958

The President participated in the congress to applaud soldiers, workers, and farmers nationwide. He hailed them, saying: "You are volunteers in production and exemplary models for revolutionary ethics. You are devoted to serving the people, yet you never envy what other people have done or belittle other's achievements.
On the same day, he issued a decree conferring Labor Hero awards on 26 outstanding patriots.
1960
Ho Chi Minh participated in a meeting to inaugurate the second National Assembly which later elected him as President.
By Duong Trung Quoc* and co-writers
*The author is a historian and member of the National Assembly