1946
A diary by a cadre, who accompanied President Ho Chi Minh during his voyage to France, reads: "At 12 pm, July 8, the President received the former chief of Seine District, a French parliamentarian, and writer Léo Poldès, the chairman of the Faubourg Club in Paris.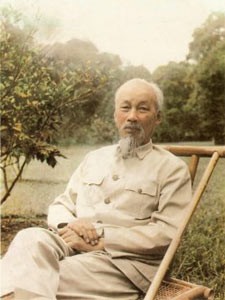 File photo of President Ho Chi Minh
"He entertained the guests at lunch.
"Also invited to the lunch were Nguyen Manh Ha, a member of the Vietnamese delegation at the Fontainebleau Conference, and his wife.
"At 6 pm Admiral Missoffe treated the President to a tea party. The Admiral has five sons who supported Vietnam's resistance war. His daughter Jacquelline, 13, who holds the President in great affection, calls him 'Uncle Ho'.
"Thus, since his arrival in Paris, the President has been reputed to "have" seven nieces and nephews, both French and Vietnamese."
1948
In a message to the National Defense Corps newspaper, President Ho Chi Minh wrote: "The newspaper must become an intimate friend to every soldier of the National Defense Corps. To this end, it should closely follow activities of this force, and every soldier should be a regular reader of the newspaper."
He also sent a letter to wounded and sick soldiers, writing: "You have shed a part of your blood for the fatherland. On one hand, you should focus on recovery of your health. On the other hand, you should pay attention to learning, When your health is recovered, you should contribute to various activities, including boosting production, for the sake of the country, with the same activeness you had once in battlefields.
"You will become good citizens in the rear, as you were brave combatants in the front line. The people and I always keep you in mind."
1949
In "Re-discussing patriotic issues," published in Cuu Quoc (National Salvation), he raised the issue "Can the capital's people [Hanoians] take part in the patriotic movement and how can they do it?"
He maintained that although the people were living in an area occupied by the enemy, they could take actions "to kill the enemy, eliminate betrayers, and undermine the enemy's activities at their military offices and economic units. They could also join resistance organizations or give support to soldiers."
1951
Chairing a meeting of the Government Council, President Ho Chi Minh said: "We have continuously gained victories, but we should not be arrogant."
Reviewing past performances, he said: "We have got closer to the public. We have better understood the people and vice versa. Our people have promoted their democratic rights in dealing with official agencies. We should step up criticism and self-criticism. We are on the right track with our guerilla war and protracted resistance war."
1958
Speaking at a meeting on farming production in Son Tay Province, President Ho Chi Minh commented: "Our poor harvest stemmed from our subjective plans and that poor harvest can give rise to negative thought. That is wrong. We must wipe out negative thinking, should put trust in the people and in the Party's policies, and should lead the people in a close, comprehensive way.
"Instructions must be continuously given to farmers from the time when they sow to the time when they complete their harvest," he advised.
By Duong Trung Quoc* and co-writers
*The author is a historian and member of the National Assembly