1940
In a report to the Communist International, Nguyen Ai Quoc, an alias of Ho Chi Minh, wrote: "Indochina has now only one political party: the Communist Party, which is authentic, operational nationally and backed by the public.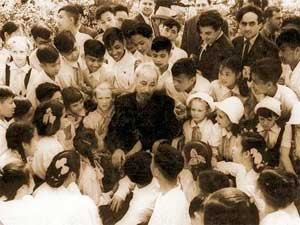 President Ho Chi Minh with Russian and Vietnamese children at a camp in Soviet Union during his visit there starting July 12, 1955

"Our duties now are consolidating the Party's leadership, building revolutionary bases, and expanding the United National Front to get all suppressed ethnic peoples together. Therefore, we need assistance from the Communist International."
1946
During his stay in France, President Ho Chi Minh met with a number of Vietnamese living there, some French politicians, and local journalists.
Asked "Is it a possibility that communization of Vietnam cannot be done within the next fifty years?" the President replied: "Everybody can study a certain doctrine. As for me, I look to Marxism. Two thousand years ago, Jesus Christ said that he loved his enemy and this has yet to be done so far. I cannot tell when Karl Marx's doctrine can be realized. The building of communism requires developed industries and agriculture and developed capabilities of every person. Our country has yet to meet such conditions."
Mentioning South Vietnam issues and the relationship between Vietnam and France, the President said: "South Vietnam originated from the same root as the North. Southern Vietnam people speak in the Vietnamese language. South Vietnam is an integral part of Vietnam. It is the 'blood' of Vietnam and the 'flesh' of Vietnam. We are determined not to debase ourselves, but we do not want to play down France, either. We do not want to push the French out of Vietnam, but we want to tell them that they should send engineers, scientists, professors or those who love us, but not those who want to oppress us. Vietnam needs France and France needs Vietnam, too."
On the same day, he released a document in protest of French troops' occupation of the Hanoi-based Governor-General's Office and the Central Highlands.
1951
In "Criticism," published in Nhan Dan (People) newspaper, President Ho Chi Minh wrote: "The truth is sometimes better left unsaid. Criticism is like a therapy to treat diseases caused by shortcomings. We are all in a revolution for the sake of our fatherland. To make the revolution a success, we must unite and make headway. Criticism is the realization of democracy and is in the interest and duty of every person. Non-criticism means a renouncement of one of our democratic rights."
In a letter to the National Education Congress, he wrote: "The Congress should pay attention to how to make education closely connected with the people's life, the resistance war, and the building of country, and how to combine education at school with the common political education and propaganda to the public."
1955
Speaking at Moscow's airport on his visit to Soviet Union, President Ho Chi Minh said: "The Democratic Republic of Vietnam wishes to establish a mutually-beneficial, normal relationship with its neighboring countries in Indochina and Southeast Asia, with France and with other countries in the world."

By Duong Trung Quoc* and co-writers
*The author is a historian and member of the National Assembly