1922

During his stay in France, Nguyen Ai Quoc attended a meeting of the 17th District's Party Cell of the French Communist Party at 100 Cardiné, Paris. At that time, he was preparing to move to 9 Compoint.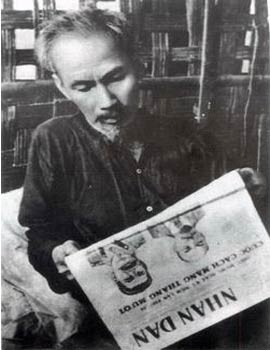 President Ho Chi Minh, who said in 1953 that "ideological education for Party members is the most important duty of our Party." (File Photo)

1946
While the Fontainebleau Conference between Vietnam and France was reaching a deadlock, President Ho Chi Minh stepped up his diplomatic lobbying. He called on several leading French politicians, including the President of the National Assembly, Vincent Auriol, and his deputy and leader of the Communist Party of France, Jacques Duclos.
He also took time to work with the Vietnamese delegation to the conference led by Pham Van Dong.
In an interview to the French media, he said: "If the French Government recognizes Vietnam's independence and joins us in building a new relationship in the spirit of mutual trust and freedom, then France will see its influence on Vietnam increase and feel more honorable about its relations with Vietnam. Such a treatment will be more sustainable than pressuring us to sign treaties for its benefit."
1953
In "Building the Labor Party of Vietnam" on Cuu Quoc (National Salvation) newspaper, President Ho Chi Minh wrote: "Party building is a task of extreme significance. Ideological education for Party members and the public is the most important duty of our Party. We must fight the disregard of ideological education. The Party's policy is to fight both leftist and rightist deviationism."
1962
At a meeting of high-ranking officials to discuss a campaign to enhance the sense of responsibility, strengthen economic management, and fight extravagance and bureaucracy, President Ho Chi Minh said: "This campaign is an internal revolution, a hard struggle between good and bad, obsolete and new, revolutionary virtues like diligence, thrift, honesty, and integrity and embezzlement, extravagance, and bureaucracy.
"A prestigious leader is one who bravely conducts criticism and self-criticism, listens to public opinion, and corrects his mistakes rather than hides shortcomings for fear of being criticized."
1967
At his office in Hanoi, President Ho Chi Minh received Raymond Aubrac, a close French friend of his while he was in France in 1946. Accompanying him was Herbert Marcovic, a French biologist who came to Vietnam to work with the National Institute of Hygiene and Epidemiology.
Speaking to his guests, the President cited Vietnamese history to prove the justness of the Vietnamese people's fight against foreign invaders. In reference to the Vietnam War, he said only when the US stops bombing Northern Vietnam could negotiations resume.
He gave a gift to Mr. Aubrac's daughter to whom he was the godfather.