1911
Nguyen Tat Thanh, an alias of Ho Chi Minh in his younger days, arrived in Marseille, France, aboard French cargo ship Latouche Tréville.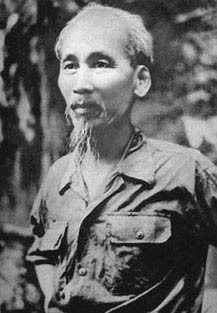 File photo of President Ho Chi Minh
During his stay here, he witnessed the poverty-stricken life of French laborers and wondered: "Are there still poor people in France? Why don't the French 'civilize' their own people before they do the same to us?"
1919
In  "The mind of colonialists," published in "Ho Chi Minh's selected works,"  Nguyen Ai Quoc was critical of an article published on Courrier Colonial which ran down the "Eight claims of the Annamite people" that had been sent to the Versailles Peace Conference in June.
In incisive style, his article laid bare the wrong attitude of the pro-colonialist writer.
1922
Nguyen Ai Quoc met Bui Lam, a Vietnamese sailor working on the Saigon-Marseille route. He advised Lam: "Remember what a people losing their country should do now. You should love each other and unite. You should also unite with French workers, the French people, and people in French colonies. We, like most of them, are poor who are living under oppression and exploitation."
1924
Nguyen Ai Quoc attended a peace meeting held in Moscow, along with well-known Russian politicians like Vorosilov, Kalinin, Zinoviev, and Frunze.
In "Lenin and oriental nations" published by French newspaper Le Paria, Nguyen Ai Quoc wrote: "It is not only because of his talent but also simple lifestyle, thrift, and love for work – in other words, because of his great morality – that he has exerted a great influence on many Asian nations and won their hearts. Lenin is an embodiment of a boundless friendship."
1946
The Fontainebleau Conference opened in France to discuss the future of relations between Vietnam and France. Despite being a guest of the French Government, he did not attend the conference and took time off to receive Vietnamese Catholic dignitaries based in France.
The same day he sent a message of greeting to a ceremony to commemorate Henri Grégoire, a French Catholic priest who once struggled for equality between nations and races.
1948
President Ho Chi Minh presided over a meeting of the Government Council to discuss the establishment of a National Defense Council and was elected its chairman.
He also agreed to merge the Army High Command with the Ministry of Defense under General Vo Nguyen Giap.
1954
In an interview with Vietnam News Agency on issues related to the ongoing Geneva Conference, President Ho Chi Minh said: "Our consistent stance is that the Democratic Republic of Vietnam will continue its struggle for peace, independence, unification and democracy."
1967
He signed a document to posthumously confer the Military Medal, First Class, to General Nguyen Chi Thanh, one of his talented disciples who passed away.

By Duong Trung Quoc* and co-writers
*The author is a historian and member of the National Assembly