1946

President Ho Chi Minh insisted on a meeting with the Commissionaire of the French government, J. Sainteny, to discuss future relations between the two countries. The meeting took place before the first National Assembly started.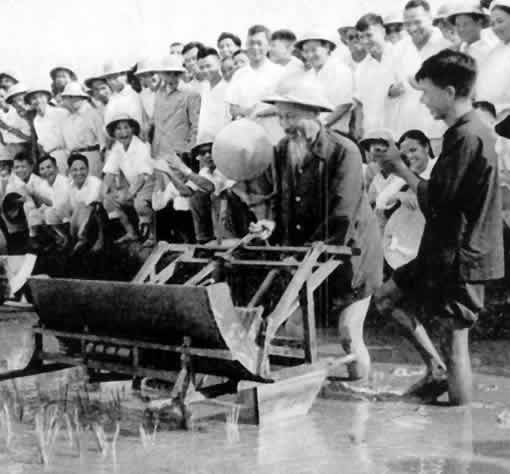 President Ho Chi Minh trying out a rice seeding machine in a field in Ha Noi on July 16, 1960. He made an appeal to raise production in 1950 and later called for a reducing tax for farmers
Philippe Devillers, a well-known French reporter and historian, wrote about the meeting.
Ho Chi Minh rejected the presence of the French army in Ha Noi. He confirmed that the North is part of Vietnam, it is part of the country's body and all political parties in Vietnam agreed upon this. They would not accept any separation of the country into North and South.
1947
In his letter to his comrades in the North, President Ho Chi Minh wrote, 'While the country is in a life-and-death struggle, each comrade and the whole organization must devote their soul and forces to lead people in the country, to turn to one direction – drive away French colonists and achieve independence and freedom; accordingly, all must be judicious, clever, cautious determined and unanimous.'
Also in his letter, the President required that his comrades should eliminate the shortcomings of self-centeredness.
He wrote, 'I understand that colonists' prisons are good schools to train revolutionaries, and Viet Minh members are patriots and ready to operate public services. However, there are still so many patriots and talented people that the Viet Minh has not yet gather. It will be wrong argument that is believed that nobody is more talented than Viet Minh members and former political prisoners. We should not think that those who have not been to prison and who have not yet joined the Viet Minh are useless. Each revolutionary fighter must be modest, the more sophisticated and experienced you are, the more modest you must be; you must be very eager to learn, must remember the saying of Lenin – 'learning, learning and learning.''
In his letter to comrades in the Central region, Ho Chi Minh emphasized that traffic plays a vital role, it is the blood vessel of everything. Traffic congestion causes difficulties and vice versa.
1950
President Ho Chi Minh made an appeal to raise production.
He wrote, 'We must determinately carry out the slogan: all people work in fields and work for for four seasons, as well as saving money, avoid waste to save food for soldiers in battlefields and for necessity. Doing two things well means we contribute largely to the country's general offensive.
1953
President Ho Chi Minh's article in Nhan Dan explained the policy to reduce tax for farmers. He wrote, 'Reducing tax for farmers is reasonable and fair because farmers have contributed as much as they could in the war; however, they are the most needy people in society because of high taxes. Reducing tax for these farmers who have done so much for the revolution should be compensated for their merit.'