1946
 
President Ho Chi Minh wrote to the southern people, soldiers at the front, and the Southern Provisional Administration Committee to inform about the Government's signing the Preliminary Agreement on March 6.
 
He said: "For Vietnam, our country, the signing produced a good result -- that France has recognized Vietnam as a self-governed country.
 
"At this moment, I bow in deep respect to the souls of the brothers, sisters, and people who laid down their lives in the fight for the country. Their sacrifice is not meaningless. We need to safeguard every drop of blood for building the Fatherland's future."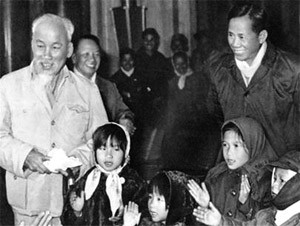 Uncle Ho (L) and Party General Secretary Le Duan (R) with children in this undated filed photo

1958
Visiting Division 316 that was preparing to go to Tay Bac for the task of economic reconstruction, he said while in fighting the imperialists there is only one enemy, there are many enemies in agriculture, like bad weather and insects. It is more difficult to fight the enemies of agriculture than colonialists. 
Before saying goodbye, he presented a poem 
The rock is solid, we are determined to be more solid  
The mountain is tall, we are determined to be taller. 
We are determined to overcome all difficulties  
Hardship does not discourage us 
The Party sends us to the production front 
We are determined to fulfill our duties 
1963
President Ho Chi Minh received Lao King Xrivang Vathana and Prince and Prime Minister Suvanna Phuma, who paid a friendship visit to Vietnam, at Gia Lam Airport. 
He said: "The relationship between the two neighbors, Vietnam and Laos, is close and will never fade. 
"The People and the Government of the Democratic Republic of Vietnam sincerely support the peaceful and neutral policy of the King and Prince meant to build Laos into a strong country." 
To mark their visit he composed a poem: "Separated for so long, from now on, Laos and Vietnam will be very close." 
1966
Uncle Ho wrote to the people and soldiers of Nghe An Province.  
The letter said: "On March 7 the province shot down the 900th airplane of the US enemy in the North. So far Nghe An has shot down 150 US airplanes. On this occasion, I would like to warn the people and officials not to be complacent because of the victory." 
1968
He wrote to the first Party Secretary Le Duan. He said: "I remember last Christmas you advised me to visit South Vietnam after victory is complete. I concurred. But now we shall change the term "after" to "before". Making a timely visit will encourage our [southern] comrades." 
"Maybe you and other comrades fear that my health does not permit me to go far. But a change in weather, inhaling the sea breeze, and living with people who are fighting will help improve my health." 
But unfortunately, because of his health, this aspiration was never fulfilled…

By Duong Trung Quoc* and co-writers
*The author is a historian and member of the National Assembly