1947

President Ho Chi Minh signed a decision to change the High Command of the National Military and Partisans into the General Headquarters of Vietnam National Military and Partisans.

Though the country was still at war, the President prepared for its future by issuing Decision 29 regulating relations between foreign and Vietnamese owners and Vietnamese citizens who work in their factories, mines, and shops.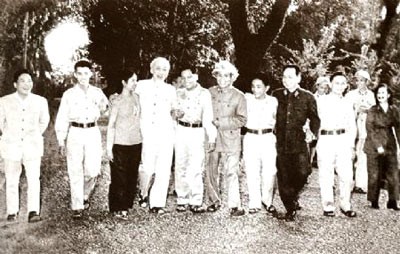 President Ho Chi Minh with Southern soldiers who visited him in the North in 1965
1951
On the way home from China, while passing through Hu Bei Province, he composed a poem in Chinese.
The field was full of white snow when [I] went
Now when [I] return the barley has turned green
Wooden ploughs will be replaced by tractors tomorrow
Farmers will become peaceful and prosperous
1965

At a Politburo meeting to discuss the US' plots and Vietnamese policies, he said the US had talked about expanding the war since February 1964. From the North to the South, all have to be determined to fight and consider it a fight for the survival of the country.

"[We] have to remember that the enemy will use both air and naval forces. [We] have to strengthen our organization and forces. About diplomacy, [we] need to think about campaigning to reopen the Geneva Accord to court public opinion and simultaneously call on other countries and international organizations to raise their voice against the war.

"In the war against the US, [we] have to be both firm and astute. Whenever the US wants to leave, [we] will create conditions for it to withdraw."

A year later the US widened the war by sending air and navy forces to the North, and ground forces to the South.

1966

He participated in a Politburo meeting to hear reports on the state of the war. He agreed to a plan to enlist for the army and suggested keeping out the middle-aged, people from families that have many members in the army, and skilled people needed for the economy.

One day in March 1948, he expressed his views on the war to the foreign media.

He said, "Despite misery, the Government and the Vietnamese people are determined to fight a war of resistance to the end for genuine reunification and independence."

"The Vietnamese people have suffered enough dishonor and misery. The Vietnamese people are determined to no longer be slaves. If French colonialists still cling to their old ambitions, they will be defeated. Justice always triumphs."

President Ho Chi Minh's views remained consistent during both wars of resistance.

By Duong Trung Quoc* and co-writers
*The author is a historian and member of the National Assembly