1923
Nguyen Ai Quoc (an alias of Ho Chi Minh during his revolutionary activities from 1919 to 1940) moved from N. 9 Compoint Alley to N.3 Marched dé Patriarches, where the headquarters of the Union of Colonies and the newspaper Le Paria were located.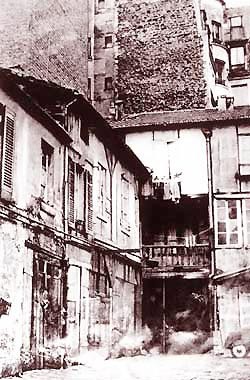 The house N.9 Compoint alley, Paris, where Nguyen Ai Quoc lived in 1920s
A report by French secret agents said that Nguyen Ai Quoc took only a folding bed with him.
1948
In Viet Bac resistance base Ho Chi Minh wrote a letter to Michel Zecchini, an Italian member of the French Socialist Party and old friend who had helped Ho Chi Minh in France after his return from the UK.
In the letter, Ho Chi Minh told the story of Vietnamese people's resistance against the French, the willpower to achieve independence for the country. He also told Michel about his disease and difficulties he had to face in wet forests.
1959
Speaking at a labor union's conference, President Ho Chi Minh asked labor union leaders to take more notice of workers' physical lives.
He said, "In conclusion, to build socialism we must have socialists. Workers must be socialists and union leaders must be socialists first. To become socialists, everybody must be aware of socialist thoughts, fight individualism, and be ready to become country owners, delete old ways of looking like servants because we are building the country for our working class and our sons' generation. We must put nation and class interests above personal interests, against envy, selfishness. We must work in a socialist style. That means working hard, in great speed but with modesty and non-stop attempt."
1960
President Ho Chi Minh wrote an article, 'Tireless study and non-stop innovation,' published in Nhan Dan newspaper. He wrote, 'We are worker-owner of the country. We must learn in order to equip owners' abilities and knowledge for a new life. So consciousness of owners is shown not only in hard working but also in passion for learning… We must learn, learn and learn, as Lenin said.'
1962
Nhan Dan published an article, 'How to make peanuts happy,' by Ho Chi Minh under his pseudonym T.L.
In the article, he criticized the wastefulness of candy making in his hometown of Nghe An. He said that sum of peanuts used to make candy every year in the province was worth 9,720 tons of cast iron, so he called citizens to export peanuts instead of making candy in order to import machines and materials for production.
By Duong Trung Quoc* and co-writers
*The author is an historian and member of the National Assembly.