1924
During an interview with a reporter from L'Utina, the official organ of the Communist Party of Italy, Nguyen Ai Quoc, an alias of Ho Chi Minh, said, "I am a Vietnamese living under French colonial rule. I am now a student from the Oriental University in Moscow, Russia."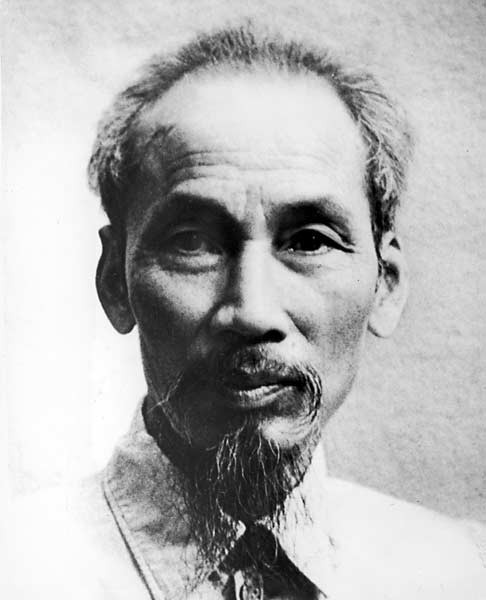 A portrait photo of President Ho Chi Minh, who in 1946 said, "To have a good assessment of a reality, we cannot help but view it in an objective way."
Expressing his hope in the Soviet Union, he said, "Many people understand the current poor weak conditions, but nobody except Russian revolutionaries will show us the way to national liberation… It is our dear comrade Lenin who has provided us with plans and his instructions as initial steps for us to keep abreast of the world proletariat.
The same day also saw him write to Zinoviev, president of the Communist International, asking for a meeting to "discuss the situation of French colonies."
1946
French troops were allowed to enter Hanoi, but in some areas they conducted military activities against the Preliminary Accord signed between Vietnam and France.
In his article, 'Immediately stop military raids in the South and Southern Central Vietnam,'  published on Cuu Quoc (Save Our Fatherland) under the penname 'Q. T.,' President Ho Chi Minh wrote, 'If wanting Vietnam and France come to an agreement that benefit both sides, the French must be honest from words to actions, in accordance with the signed accord.'
He also urged French troops to stop attacks and called on Vietnamese combatants to be ready to fight for the nation.
Talking with propaganda officials after a meeting with the Governmental Council, President Ho Chi Minh said, "Self-possession is neither feebleness nor a concession, but it does show that the public are as disciplined as troops.
"Without respect for discipline, an army will not be well-formed and the public will not meet their goal, either. To act in conformity to the current situation, we must place reason above feelings; and to have a good assessment of reality, we cannot help but view it in an objective way."
1952
In an article, 'Who's to blame for such a plight?,' in Cuu Quoc, the President blamed a repeated collapse of many cabinets and the costly war in Vietnam on France's declining financial situation. He wrote, 'The reality is that French colonialists take benefit from the French people's taxes and young French people's sacrifices.'
1953
President Ho Chi Minh issued a bill to set up a national film and photography company, giving birth to the two industries in the country.
1967 
In a letter replying to Nghe An Province's students, the President praised their achievements in studying and working. He also highly appreciated schools' efforts in both teaching and coping with enemies' air attacks for the safety of students. 

By Duong Trung Quoc* and co-writers
*The author is an historian and member of the National Assembly