1920
 
The French police found that Nguyen Ai Quoc, an early alias of Ho Chi Minh, had completed the manuscript of a book titled "Les Opprimés" (The Oppressed) and planned to meet two well-known leftwing politicians, Marcel Cachin and Jean Longuet, to ask them to write its preface.
 
Detectives also reported that Nguyen Ai Quoc had saved 300 francs for printing the book and would go to Pons to work as a photographer to earn more money to reprint the book.
 
1923
 
La Vie Ouvrière (Worker's Life) newspaper published his article titled "Employees reorganize and fight against capitalist employers' exploitation."
 
The article described the growth of the Chinese workers' movement.

He said: "Though foreign and domestic capitalists have tried their best to quell or prevent all revolutionary movements, Chinese workers have reorganized quickly and conducted their affairs well with tremendous help from intellectuals."
 
1946
 
President Ho Chi Minh launched "An appeal to the people to properly implement the Vietnam-France Preliminary Agreement."
 
He said, "The people [have to] be determined but calm, the press [has to] make legitimate comments and weigh its words. We have to show that our people love freedom and independence and respect peace and loyalty."
 
When French forces were in the process of replacing Chiang Kai-shek's forces, he issued a "strict order" against any provocation of French forces and nationals.
 
1951
 
Ending the first conference of the Party Central Executive Committee's 2nd tenure, he joined the Politburo along with Truong Chinh, Le Duan, Hoang Quoc Viet, Vo Nguyen Giap, Pham Van Dong, Nguyen Chi Thanh, and alternate member Le Van Luong.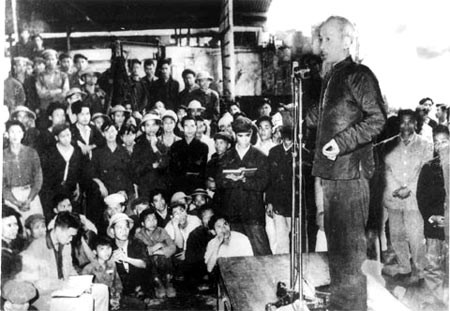 President Ho Chi Minh addresses workers at the Duyen Hai Machinery Factory in Hai Phong during a visit on March 16, 1961
1961
He visited Duyen Hai Machinery Factory in Hai Phong and told its workers that "Building socialism is to make people's lives happy and comfortable. [If we] want to be well fed, [we] have to grow a lot of rice. [If we] want to be well clothed, [we] have to produce a lot of fabric. [If we] want to have rice and cloth, [we] cannot let agriculture be like it is now but there must be machines. Machines are made by you. There must be lots of machines and they must be good."
 
1965
President Ho Chi Minh wrote to the Cambodian head of state Prince Norodom Sihanouk to hail the success of the Indochinese People's Conference that had just finished in Phnom Penh. 
The letter said: "The conference convened on your initiative was successful and marked a great step in uniting for the fight against the common enemy of the Vietnamese, Cambodian, and Lao peoples -- the US imperialist." 
1969
Uncle Ho sent a message to the southern people and soldiers, praising them for fighting well and achieving victory in the fight during Tet.  
He said: "The US enemy was defeated badly, but it has not given up its intention to invade nor does it not want to withdraw from our country. Therefore, we have to continue to fight hard and bitterly till the US is defeated completely, and the South is liberated."

By Duong Trung Quoc* and co-writers
*The author is a historian and member of the National Assembly