1922

The French Socialist Party's L' Humanité (Humanity) newspaper published a short story titled "Risk – or Activities of Annam working classes" by Cu Li Xe, a pseudonym of Nguyen Ai Quoc.

The story told about a wretched rickshaw puller who was always treated scornfully and unjustly by colonialists, all of them priests or sailors.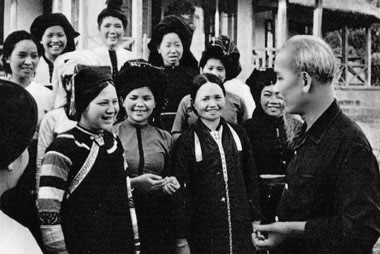 Uncle Ho with ethnic minority delegates from the mountainous area of Viet Bac in 1959
1923
The same newspaper published his article titled "Uprising in Dahomey." The article described the political fluctuations in Porto Nouvo City, the capital of a French colony in Africa.
He wrote, "We have to draw serious conclusions from these events: In colonies, workers have begun to understand what class struggle is. It is essential to make black and yellow workers understand that their only enemy exists in the current regime, a regime that is leading to a slavery regime which is more sophisticated, tougher and more inhuman than the previous one. They can liberate themselves only with help from oppressed brothers and sisters in Europe."
1946
On the day French forces moved towards Ha Noi, President Ho Chi Minh received general Leclerc, head of the French military in Indochina.
He said: "I hope that new France and new Vietnam will show the world that they can resolve all difficult issues in the wake of the global chaos by cooperating with and understanding each other for the sake of the two countries' happiness and world peace."
1965
The Vietnam Women's Union launched the "Three responsibilities" movement following his suggestion.
The movement, which attracted millions of women, called upon them to assume responsibility for household and other work so that men can focus on fighting, and also to fight as guerrillas.
1967
He sent a letter each to the peoples of Sweden and Italy who held many protests against the Vietnam War.
The letter said: "We are in our county. We have done nothing to hurt the US. The US imperialists has to end its invasion and leave, and immediately afterwards peace will be restored in Vietnam."
"No matter how frenziedly the US empire intensifies the war, we are determined to defeat it. We have complete confidence in our victory because our effort is just."

By Duong Trung Quoc* and co-writers
*The author is a historian and member of the National Assembly