1924
 
Inprekorr of the Communist International published an article titled "Indochina and Pacific Ocean" by Nguyen Ai Quoc analyzing imperialists' scheme to induce the proletarian class to take part in conflicts for the nominal purpose of national interest.
 
He said, "It is an issue all proletarians have to think about."
 
He also predicted that "The Pacific Ocean and colonial countries around it might become the hotbed of a new world war in future, which the proletarian class will have to suffer. Other wars will break out due to the Pacific Ocean issue if the proletarian class is not watchful."
 
1950
 
On his way home to Viet Bac from China, just before reaching Longzhou District in China's Guangxi Province, he composed a poem in Chinese, titled "Near Long Zhou."
 
'Tis about 30 miles from Long Zhou
Hearing the resounding sounds of airplanes and cannons
The Vietnamese people are really heroic
[Their] fight against the enemy to build the country will surely succeed.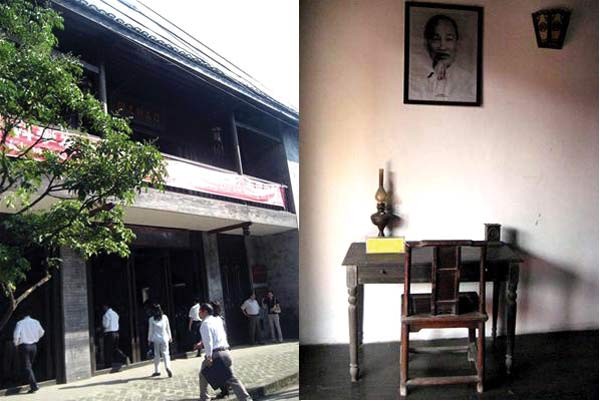 Left: The house at 74 Nan Street where Ho Chi Minh stayed whenever he visited Longzhou District in China's  Guangxi Province in the 1930's and 40's. It is now an exhibition where his relics are preserved.
Right: A desk Ho Chi Minh used when he stayed at the house
1951
 
In a letter praising a victory by the people and soldiers of Binh Tri Thien Province, he said: "We have to try more and remember that in the Interregional Area IV, guerilla warfare is the mainstay and mobile warfare is minor. Resistance is a long-term effort, afterwards it will be a complete triumph."
 
1955
 
At the start of the school year, he wrote to the Central Mountains Pedagogy School.
 
It said: "You are from many ethnic groups and localities, but are all children of a great family -- the Vietnamese family -- and have a common Fatherland, Viet Nam.
 
"If our ethnic brothers want to be progressive and develop our culture, we have to eliminate biases among ethnic groups, unite, love and help each other like brothers in a family."
 
1958
 
At a conference of the Central Committee of the Vietnam Fatherland Front, he said, "Real solidarity means a unanimity in goals and viewpoints. Real solidarity means uniting despite critiquing each other, learning good things from and criticizing bad things in one another, and criticizing in a spirit of love for the country and people."
 
1967
 
He visited a commando and training unit along with Prime Minister Pham Van Dong and General Vo Nguyen Giap.
 
He said, "It is a special job and honor being a commando, it needs special efforts. Commandos are especially trusted. Everything is special for commandos. They have to be specially trained. Discipline has to be especially strict. [Their] determination to defeat the enemy has to be especially strong. [They] have to be especially loyal to the Party and love the people."

By Duong Trung Quoc* and co-writers
*The author is a historian and member of the National Assembly