1946
 
President Ho Chi Minh attended a Government Council meeting to keep a close watch on the replacement of Chiang Kai-shek's forces by French troops.
Commenting on the armed clash between the Viet Minh (Vietnam Independence League) and Vietnamese Nationalist Party, he said, "The Army Party Committee and the Ministry of Defense have to resolve it, ensuring that if it is a serious issue, it becomes a minor one and if it is a minor issue, it disappears."
 
He agreed with French High Commissioner D'Argenllieu's suggestions regarding protocol for an official meeting.
 
On the same day, in a thank you letter to people from Thai Nguyen, Bac Kan, Lang Son, and Cao Bang provinces, he said: "Though I am in Ha Noi now and far away from you, I never forget you. I always remember how, whenever I was sick, you took good care of me like my siblings. Therefore, though I am far away from you physically, my mind is always close to you. I am sure that this love will never fade."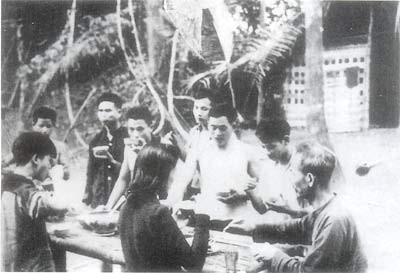 President Ho Chi Minh (1st R) having a meal with guards at Hang Bong in Tan Trao Commune, Tuyen Quang Province, in 1950
1947

He wrote a book titled "New life" under the pseudonym Tan Sinh and gave it to the Campaign Central Committee to publish it.  
In its preface, he said: "Practicing 'New life' is essential for the work of liberating and building the country. It is not that all old things have to be eliminated and all things have to be renewed. What is old but bad has to be eliminated. What is old but not bad and troublesome has to be modified rationally. What is old but good has to be improved further. What is new but good has to be embraced. Do whatever is needed to make our people's lives happy. It is the purpose of the new life." 
1951

He met Voluntary Youth C12 Detachment on duty at Na Cu in Bac Kan Province's Bach Thong District.  
He presented them four sentences of verse which later became profound as teachings for youth. 
No task is difficult
Only afraid that mind is not durable
Digging the mountain and filling the sea
Will certainly be achieved with a determined mind 
1961

He returned to visit Tuyen Quang Province, a former resistance base. He visited Tan Trao and told people there, "socialism means people of all ethnic groups will be more and more well off and our descendants will be increasingly happy." 
1967

In the afternoon, before firing on Doc Mieu base in Quang Tri Province, artillerymen received his message of encouragement. 
He said: "You represent the artillery forces of the socialist North and have to retaliate against the escalating acts of sabotage by the enemy's artillery in the South. Therefore, you have to win the first battle." 
Replying to a Mexican committee which expressed solidarity with Vietnam, he wrote, "In order to achieve our Fatherland's independence and fulfill our duty towards other nations that are fighting the US, we are not afraid of sacrifice and hardship, and determined to carry on a war of resistance until final victory."

By Duong Trung Quoc* and co-writers
*The author is a historian and member of the National Assembly