1946
President Ho Chi Minh held talks with the French High Commissioner in Indochina, Admiral Georges Thierry d'Argenlieu, on the Emile Bertin, a French fast light cruiser, in Ha Long Bay.They discussed increasing high-level contacts between Vietnam and France and the President's suggestion that a planned summit between him and Admiral D'Argenlieu be held in France to prevent colonialist elements' attempts to sabotage peace efforts.
Accompanying the President to the summit were Foreign Minister Nguyen Tuong Tam and Deputy Interior Minister Hoang Minh Giam.
At the event, after witnessing a parade of French naval forces, the president told Raoul Salan: "If the admiral wants to use warships to shake our morale, he will be greatly mistaken. These boats cannot go up the rivers in our country."
After the summit, Admiral D'Argenlieu commented: "President Ho Chi Minh is a man of skill and spirit. He knows what he wants and conducts his activities patiently… He has the necessary qualifications for a revolutionary leader and so does also of his Party."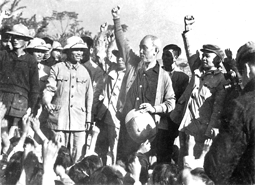 President Ho Chi Minh (C) meets young people in Thanh Hoa Province in 1961
1958
 
In a letter he sent through General Vo Nguyen Giap, then a deputy prime minster, who was visiting the northwest, President Ho Chi Minh encouraged ethnic minorities there to expand a long-term socioeconomic plan "to make the autonomous area more and more prosperous and people's life better-off.
1959
President Ho Chi Minh showed visiting Indian President Rajendra Prasad around some sites in Hanoi, including Quan Su and Mot Cot Pagodas where storax trees Ho Chi Minh had brought from India were planted.
At a banquet later that day, President Ho Chi Minh said, "Thanks to the visit by His Excellency the Indian President, we have the chance to meet a great man who is the embodiment of the patriotism, hard work and heroism of the friendly Indian people."
1961
Addressing the 3rd National Congress of Vietnam Labour Youth Union, the President said: "Since the Union had the first member – Ly Tu Trong – we now have 78,000 members across the country… This progress has made me happy and I feel as if I am younger. It also makes me feel excited as if my heart is filled with blossoming spring flowers…"
1966
At a conference on strengthening transport for the fight against the American invaders, he said: "What is the kind of war we are waging against the enemy? It is a people's war. Transport comes from our people. Transport is also a front. Therefore, every worker in the transport sector must be a fighter. If we are successful in the field of transport, our war will be successful."
By Duong Trung Quoc* and co-writers
*The author is a historian and member of the National Assembly