1920

The French police reported that Nguyen Ai Quoc, an early alias of Ho Chi Minh, had given a lecture on socialism to some youths in District 13 in Paris.

1935

The first congress of the Indochinese Communist Party convened in Macau, and named Nguyen Ai Quoc as its representative to the Communist International.
1946

President Ho Chi Minh presided over a Government Council meeting to discuss many important issues: setting up ministries like the Social Ministry and Foreign Affairs Ministry, decree on personal freedom and temporary decree on free journalism, the financial situation, and China's desire to buy Vietnam's railway network.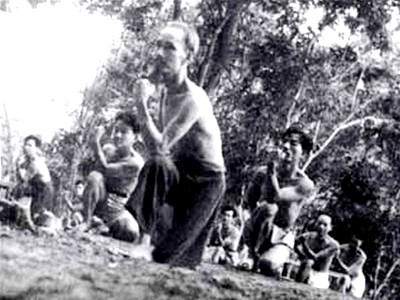 Ho Chi Minh (foreground) practices martial arts with troops. He advocated good health for everyone through regular exercise, saying a healthy people make for a healthy nation
On the same day Cuu Quoc (National Liberation) published an article by him titled "Health and physical exercise." He called upon people nationwide to exercise.

The article said: "Keeping the nation's democracy and building a new life need health to be successful. If every citizen is weak, the whole country is weak. If every citizen is healthy, the whole country is healthy.

"Therefore, exercising and improving the health is the duty of every patriot. [If] the people are healthy, the country will be prosperous. I hope all our people will try to exercise. I do it every day."

President Ho Chi Minh signed a decree on establishing the Youth and Gymnastics Department under the National Education Ministry.

March 27 has come to commemorate gymnastics and sports in the country.

1947

He wrote to Ve Quoc Quan (National Defense Forces) newspaper, saying "National defense forces are the people's forces to protect the people and defend the Fatherland. The newspaper is meant to heighten soldiers' spirit and awareness of discipline."

The newspaper listed 12 disciplines: 1. Every task should be done on the orders of superiors 2. Do not use public property for personal benefit 3. Do not touch anything belonging to the people 4. When stationing troops [in someone's house] and at the time of leaving, keep the house and garden tidy 5. Be courteous and respectful to the old and affectionate to children. 6. Be fair while trading. 7.Return borrowed material to its owner 8. Make up for any damage 9. Help residents with both small and big tasks. 10. Soldiers of all ranks have to share their jobs and sorrows 11. Do not flirt with women, get drunk, play cards, or use drugs 12. Help soldiers' families and with improving production at your base."

He considered being disciplined an imperative for success in the task of building the country.

1964

He presided over a special political conference held in Hanoi.

At the opening ceremony, he reviewed the major changes in the country and the world in the 10 years since the North was liberated, and the challenges facing the country.

He exhorted everyone in the North to "work twice as hard to repay the southern people."


By Duong Trung Quoc* and co-writers
*The author is a historian and member of the National Assembly