1945
 
Ho Chi Minh met American General Chennault, the commander of Air force Corps 14 and chief representative of Allies in Huanan, China to discuss cooperation in fighting the Japanese in Indochina.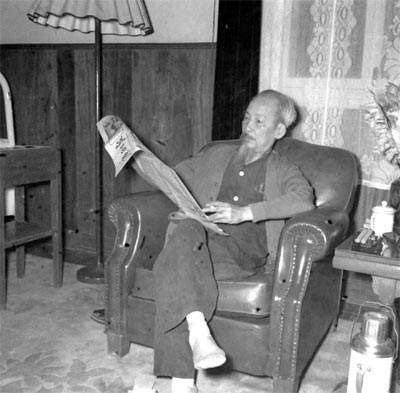 President Ho Chi Minh
Chennault thanked him for rescuing an American aviator and asked if Viet Minh was willing to help rescue Allies' pilots falling in Dong Duong.
 
Ho Chi Minh replied, "The duty of people who fight against fascists is doing everything that they can do to help the Allies."
 
Before bidding farewell, the American general presented Uncle Ho a portrait of himself with a dedication 'Your sincere friend.'
 
After the meeting, many activities were prepared and in May 1945, he returned home with two telegraphers and brought some communication devices to the Viet Bac resistance base.
 
1948
 
Cuu Quoc (National Liberation) published his letter praising notable residents, scholars and people at Hai Lang Hamlet for organizing an evacuation well.
 
The letter said, '[If] there is a country, there will be houses. We are determined to fight against the enemy. When the resistance wins, and reunification and independence are achieved, we will build houses and roads more beautifully together, which the Vietnamese people's new life deserves.'
 
1952
 
Cuu Quoc published an article under his pseudonym D.X, 'Embezzlement in the US.'
 
He concluded that 'Not like capitalism, the people's power has to eradicate embezzlement absolutely, and the people's power has to be pure.'
 
When a movement to practice thrift, fight against embezzlement and squander and inefficient bureaucracy was launched, he wrote a long article on these evils.
 
He analyzed the substance and manifestations of these evils and quoted Lenin's opinions on this topic. 
By Duong Trung Quoc* and co-writers
*The author is a historian and member of the National Assembly