1948
In a letter dated February 22 – kept at the Vietnam Revolutionary Museum – to President Ho Chi Minh, engineer Nguyen Xien, Deputy General Secretary of the Vietnam Socialist Party, mentioned the immoral conduct of some Viet Minh (the League for the Independence of Vietnam) officials .
On March 3, the President wrote a note on the edge of the letter, giving his instructions to his subordinate Hoang Quoc Viet, 'The issues commented on in this letter are not excessive. So you and [Le Duc] Tho should discuss them and take measures to correct them.'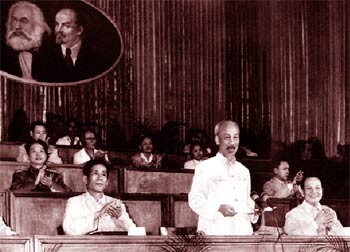 President Ho Chi Minh addresses the Third National Party Congress in 1960 in Hanoi.
1951
At the ceremony to introduce the Vietnam Labor Party, President Ho Chi Minh underlined that the Party's goal was implied in the motto: 'Unite the entire people; serve the fatherland' and that the Party' duties were, "Make the war of resistance a success, building the country a success."
He also said the Party's policy was "developing Vietnam into a country that is independent, unified, democratic, prosperous and powerful.
"The Vietnam Labor Party does not fear any enemies despite how violent they are. It is not afraid of any duty despite how dangerous they are. Our Party is willing to serve as loyal servants to the people."
Attending the conference on unifying Viet Minh and Lien Viet (the Vietnamese Alliance), the President expressed his happiness, saying, "the 'tree' of great solidarity is blossoming and its 'roots' are deeply stretching to the entire people and it will be everlasting. And not only our Vietnamese nation shows a great solidarity but so do Cambodia and Laos."
1952
In his article 'Solidarity between the army and the people is more and more durable' in the Nhan Dan (People) newspaper, he wrote, 'With their love for the soldiers, our people are creating initiatives to overcome all difficulties. With their love for the people, the soldiers are more courageous in fighting. With their mutual love, the people do their best to step up production and the soldiers try their utmost to kill the enemy and achieve feats… It is this very solidarity that ensures a success for our war of resistance… Solidarity between the army and the people is the way to success.'

1955
He wrote in an article 'Revolutionary cadres' in Nhan Dan:
'Revolutionary virtue can be described briefly as follows: Awareness of what is right and what is wrong; holding fast to that stance; being utterly loyal to our country; and being utterly pious to the people.
He also wrote, 'Every success or failure is a result of whether or not our cadres are imbued with revolutionary virtue.'
1960
Attending a meeting of the Politburo in preparation for the Third National Party Congress, the President instructed, "Avoid organizing meetings that are great in number but provide little in results."
In 'Abundant', which was one of a series of stories 'Fast, Abundant, Good and Cheap,' he wrote, 'Bravely level out all obstacles of the old working style and of individual calculations in order to continually come forward and to gain increasing high productivity. This is the utmost manifestation of the sense of mastership of the working class.'

By Duong Trung Quoc* and co-writers
*The author is a historian and member of the National Assembly