1928
 
An underground railroad for the Communist International arranged for Nguyen Ai Quoc, an alias of Ho Chi Minh, to meet some compatriots at the Anti-Imperialist Alliance's headquarters in Berlin on his way to the Soviet Union from France.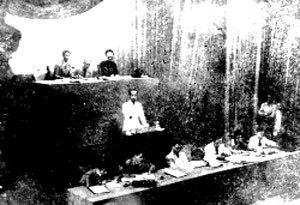 President Ho Chi Minh delivers a report at the first session of the first National Assembly in March 1946 (Filed photo)
1946
As a president of the Resistance Government, which had been established just after the first session of the first National Assembly on March 2, he presided over its first meeting to draft the "Government's Declaration". 
The meeting also discussed diplomatic policies and establishment of a subcommittee, headed by the President, for drafting reactions to be adopted in negotiations with France. 
In the afternoon, he, together with Foreign Minister Nguyen Tuong Tam, announced results of a survey conducted about Chinese and US representatives' stance concerning the government's negotiation policy with France.  
On the same day, he held a meeting with French representative J. Sainteny and the press. 
Also on this day, he made great diplomatic efforts to reconcile interests of domestic and international powers to seek a solution to peace, avoiding conflict, and ensuing independence of the young country. 
On March 5, the situation worsened when a militarily clash between French and Chiang Kai-shek forces became unavoidable. 
The President and the Central Standing Committee kept a close watch on the situation and discussed how to cope with the situation if a clash between powers broke out.
 
1947
President Ho Chi Minh ordered the military base in Son Tay Province be moved to Phu Tho Province via Trung Ha ferry.  
1950

President Ho arrived in Beijing to meet leaders of the People's Republic of China for the first time.  
1952
At a national congress of 'excellent workers, farmers and soldiers,' Uncle Ho said, "You are like me, who is not a mandarin but a servant of the people. If the servant makes mistakes, he must be criticized. It is democracy. Democracy is honest criticism."  
In Cuu Quoc (National Liberation) published on the same day, he wrote an article, 'For thousands of years may old people live' under his pseudonym D.X.  
He introduced a Soviet idea for the caring of elderly people.  
1969
He sent a message to lawyer Trinh Dinh Thao, chairman of the Alliance Central Committee, writing, "Our people can be proud of being a heroic nation because our people have united and been determined to fight and defeat the US. The establishment and heightened activities of the Alliance proves the people's patriotism and strong solidarity in the fight against the US."
By Duong Trung Quoc* and co-writers
*The author is a historian and member of the National Assembly