1941

Nguyen Ai Quoc, an early alias of Ho Chi Minh, presided over the Indochinese Communist Party's eighth Central Conference at Pac Po, Cao Bang Province.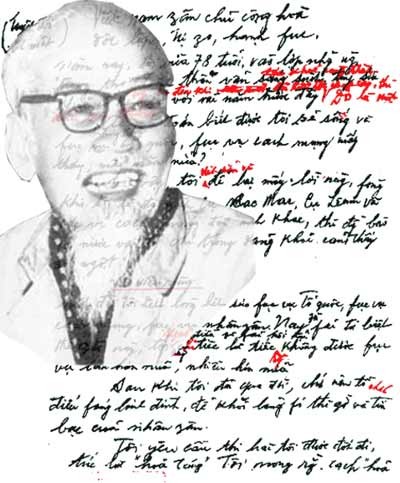 A page in the draft of President Ho Chi Minh's will
The conference lasted till May 19, and issued many decisive policies regarding the establishment of the Viet Minh Front and a political creed, which defined urgent revolutionary duties.

He said, "At present, interests of the [revolutionary] organ and class have to be placed in the country's life-and-death situation. At this time, if issues, including national liberation and independence, are not solved, not only will the whole country keep suffering hardship but also interests of the organ and class will never be reclaimed."

The conference delegates also elected Truong Chinh as the Party's General Secretary.

1958

Uncle Ho visited veterans at a medical treatment and convalescent home for Southern officials coming to the North to engage in revolutionary activities.

He told them that "Southern officials and people coming to the North must miss native land. That feeling is very legitimate. However, each of us has two families: small personal family and the great family, which is the Fatherland. The current fight for the country's reunification by Southern and Northern people is for our family to get together."

On the same day, he met with voters and answered their questions at the People's Opera House in Hanoi.

Regarding the contractionary policy, he said, "Building socialism is like farming rice. [We] have to plough hard and cultivate well, so that [we] have rice to eat."

Answering the question "How long does the transitional period last?" he replied, "Previously someone asked: How long is the long-term resistance?" The Party and the Government answered: It may be five, ten or 15 years. We showed solidarity to fight and won after nine years.

"Vietnam is a backward, agricultural country. The task of changing an old society into a new one is more complicated and difficult than fighting. If all of our people try and zealously emulate to build [the country], the transitional period will be shortened."

1961

Nhan Dan (People) began to publish (in 12 issues) a series, "Telling stories while traveling," he wrote under the pseudonym T. Lan.

The series was about his life and activities from the 1920s to 1941. The last issue concluded that "Socialism will be determinedly implemented worldwide. This is obvious and sure like the sun rises in the east."

1965

Uncle Ho began to write the first draft of a document noted "Absolutely secret." It was President Ho Chi Minh's will.

From that day on, before his birthday, he reviewed and completed it.

By Duong Trung Quoc* and co-writers
*The author is a historian and member of the National Assembly