1922

Nguyen Ai Quoc, an early alias of Ho Chi Minh, joined an anti-war demonstration held by the French Communist Party and the Seine District Revolutionary Trade Union in Paris.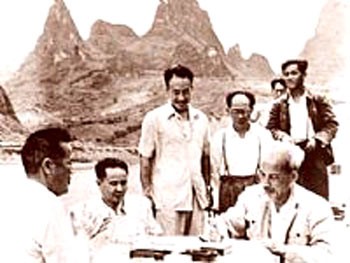 The file photo shows President Ho Chi Minh composing a poem while going by boat on the Li River during his visit to Guilin, China, in May 1961
1924
Inprekorr, run by the Communist International, published an article titled "Bankruptcy of the French colonial regime" by Nguyen Ai Quoc.
He commented on Albert Sarraut's dismissal from the French Government. Mr.Sarraut was a former Governor General of Indochina and Minister of Colonies.
He said: "The dismissal again proves that the French colonial regime has gone bankrupt."
"It benefits only speculators, unprincipled and untalented politicians in France, alcohol and opium merchants, traffickers and greedy people."
1946
President Ho Chi Minh and the Government Council continued to hear the report from the Government delegation that had just returned from the Preparatory Conference in Da Lat besides discussing diplomatic issues.
On the same day, he sent a message to Admiral Thierry D'Argenlieu to thank the French Government and National Assembly for cordially receiving the Vietnamese National Assembly delegation headed by Pham Van Dong when the delegation visited France.
He said: "I hope that negotiations held in Paris in future will be friendly to ensure the prosperity of the two nations."
1954
He gave an interview to Indonesian news agency Antara News a week after the Dien Bien Phu Victory when the Genèva Conference was going on.
He said: "The Vietnamese people fight with fortitude for establishing a peaceful, independent, united, democratic, and liberal country. [They] want to achieve independence and liberate the country by peaceful means."
"Our goals in negotiating with the French for a ceasefire and reestablishing peace in Indochina are real independence, reunification, democracy, and freedom."
"Peace can be achieved if all countries in the world, especially the big countries, are willing to resolve disagreements through negotiations, and people around the world don't let warmongering countries deceive them and [instead] take the responsibility upon themselves to protect world peace."
"All Asian countries that were or are being enslaved and made into colonies have to show solidarity to fight oppression and invasion."
1961
President Ho Chi Minh left for Guilin, China, where he had zealously carried on his revolutionary activities 20 years ago to prepare forces for the August Revolution of 1945.
1966
He visited a training class held for new Party members in Hanoi to define the virtues members should possess during that revolutionary period.
He said: "First of all, people have to have morality, loyalty, and kindness. It is just dogma and pedantry if they read lots of books on Marxism-Leninism but are immoral or unkind."
By Duong Trung Quoc* and co-writers
*The author is a historian and member of the National Assembly