1921
A French secret agent's report said that Nguyen Ai Quoc - Nguyen the Patriot, an alias of Ho Chi Minh, took part in a meeting of a French Social Party's cell in Paris.
In May (undefined day) La Revue Communiste published an article, "International and Indochinese Communist movements," which was aimed at answering the question, "Can Communism be applied in Asia in general and Indochina in particular?"
While analyzing special features in Asian and Indochinese history, in which thoughts close to communist ideals had appeared, the author pressed, "we lack those which help us become communists. These are: Freedom of press, freedom of travel, freedom of teaching and studying and freedom of meeting (all these are being barbarously banned by colonial exploiters).
"When hundreds of millions of oppressed and massacred people in Asia are awake and destroy ignoble exploitation by rapacious colonialists, they will be a great force and while destroying imperialism, which is one of the conditions to helping capitalism exist, the Asian people can help brothers in the west in liberating them."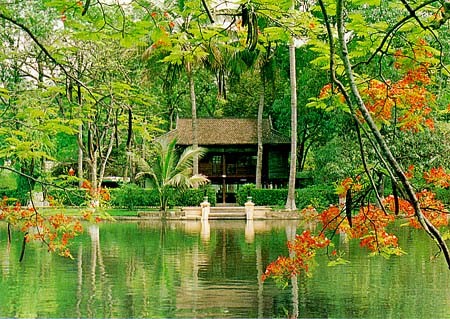 The President Ho Chi Minh's house located in the garden behind the Presidential Palace
1945
While continuing to move revolutionary headquarters toward the south, Ho Chi Minh arrived in Cho Don, Bac Kan Province, and met Vo Nguyen Giap (who would later become a general and famous military tactician), who was assigned to pick up Ho Chi Minh.

The same day, the Cuu Quoc (National salvation) newspaper issued a series of articles, "Binh Pháp Tôn Tử" (Sun Tzu's The Art of War), by Ho Chi Minh under the pseudonym Q.Th.
Regarding the first rule of the war, "must know how to analyze and predict," the author stressed on using force.
He said, "In using forces, leaders must consider five things that are moral principals, good opportunities, favorable ground, generals and measures.
"Generals must know the five things. This also means that they know themselves very clearly. If they can do this they will have united people, good opportunities and favorable ground (terrain), good generals, full military supplies and achieve victory in wars."
1958
President Ho Chi Minh moved to the house on stilts located in the garden behind the Presidential Palace.
1959
The President visited Tran Hung Dao Mechanical Factory in Hanoi, which was the leading factory in the nation's mechanical industry at the time.
1961
While visiting China, President Ho Chi Minh came to Nanjing to pay tribute to Sun Yat-sen, who was the first provisional president when the Republic of China was founded in 1912.
Enjoying the landscape of Lake Tai (the third largest freshwater lake in China) in Wuxi, the President wrote a poem in Han script, which was translated into Vietnamese by Khuong Huu Dung:
Tây Hồ khôn sánh Thái Hồ đẹp
Tay Ho (West Lake) can not compare with Lake Tai
Thái Hồ rộng vượt Tây Hồ xa
Lake Tai is much larger than West Lake
Thuyền cá đi về trong nắng sớm
Boats full of fish are coming back in the sun
Ruộng đầy dâu lúa, núi đầy hoa.
Fields are full of rice and mulberry, mountains are full of flowers.
1967
On May 17 in the last two years of Ho Chi Minh life, he reread and corrected his will.

By Duong Trung Quoc* and co-writers
*The author is a historian and member of the National Assembly