1924
In a letter to the general secretary of the Oriental Department of the Communist International on promoting revolutionary movements in Eastern countries, Nguyen Ai Quoc wrote: "The first cause of the weakening of Eastern nations is their isolation...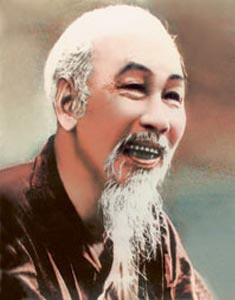 A photo of President Ho Chi Minh
"How useful it would be for Annamists if they know how Indian friends organized their struggle against British imperialism or how Japanese workers united to fight against capitalist exploitation, or how Egyptians sacrificed their life for independence. In general, as most Oriental nations are very sentimental, such practical examples are more valuable than hundreds of propaganda speeches."
1946
To encourage the mass education movement, on the first page of the book "Methods and styles to teach national language at the primary level," President Ho Chi Minh wrote: "Teachers of national languages should thoroughly read this book and wholeheartedly teach unlettered people to help eliminate illiteracy soon. Doing so is to fulfill a sacred duty towards the fatherland."
1951
In a letter of thanks to individuals, official agencies, and other organizations who greeted him on his birthday anniversary, he wrote: "I remain young in body and mind, since our nation and people are still young. To return your love for me, I promise that with the assistance of the National Assembly and Government, with the people's support, and with the cadres' and soldiers' determination to carry out orders, I will do my best physically and mentally to serve our fatherland.
"I will also give directions for our people and fighters to do the same and will take [them] to victory in the resistance war and in rebuilding our country, contributing to the keeping of peace and democracy in the world."
In an article "Self-criticism" published on Nhan Dan (People), he wrote in the introduction: "A knife will be not sharp without honing; gold will be not fine without refining; water will be not clean without filtering; and people will not be progressive without self-criticism, and neither will our Party."
"Just like everybody needs to take a bath to keep themselves clean, everybody needs to make self-criticism to improve their thoughts and actions. Revolutionaries should be decisive in practicing self-criticism, since without doing so, they will no longer deserve to be called revolutionaries…"
1968
President Ho Chi Minh attended the fourth session of the third National Assembly. After listening to Prime Minister Pham Van Dong's greetings on his 78th birthday, he said: "I previously said that victories achieved by soldiers and people in both the North and South made me fell 20 years younger. But now hearing that I have entered my 78th year, I know I am getting old. So I would like to present all of you with the following verse as my self-motivation:
"Not quite old at 78 years
Still shouldering responsibilities of national affairs
Our resistance is achieving great triumphs
Go ahead! Along with younger generations"
1969
President Ho Chi Minh revised his will for the last time and put it in an envelope.

By Duong Trung Quoc* and co-writers
*The author is a historian and member of the National Assembly