1928
In a letter sent from Germany to the Oriental Department of the Communist International, Nguyen Ai Quoc gave his opinion on the activities of the French Communist Party's Department for Colonial Issues and asked it to take care of Indochinese revolutionaries who were being trained in Russia.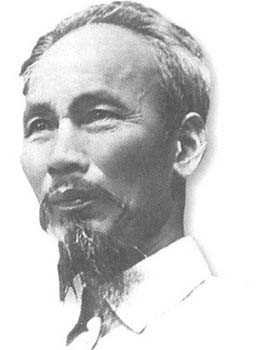 President Ho Chi Minh said in 1964: "I once came to the US and I know that Americans have respect for justice…"
Inprekorr, the French edition of the Communist International's magazine, published two articles titled "Workers' and farmers' movement in India" featuring the great changes happening in that country, and "Imperialism, the destroyer of indigenous races," and concluded: "The history of colonialism indicates that many indigenous races have been annihilated when they get in contact with the white man's civilization… and if we want to save those races, we must overthrow imperialism."
1939
Nguyen Ai Quoc arrived in the city of Kueilin, China, and tried to set up a liaison with the resistance movement in Vietnam through a series of stories published on Notre Voix, a newspaper of communists who were openly operating in Hanoi. One of them, "Difficulties faced by Japanese army," highlighted the problems Japanese troops faced in China and warned that the fascism was approaching Indochina.
1964
Minority of One, a magazine run by a group of intellectuals in the US, published an interview with President Ho Chi Minh on his birthday anniversary, in which he said: "From Vietnam, tens of thousands of miles from the US, I would like to send to American friends my friendly greetings and my pressing appeal. I hope you would understand more clearly the bitter reality these days in South Vietnam, a half of my country, where there is a very fierce war, one of the biggest, bloodiest, and most prolonged in the world…
"Vietnamese well understand that American people want to live together with other people in peace and friendship. I once came to the US and I know that Americans have respect for justice…
"It is those who are sabotaging our liberty and independence that are betrayers of the US' Declaration of Independence, which highlights truth that 'all men are created equal; they are endowed by their Creator with certain unalienable Rights, that among these are Life, Liberty and the pursuit of Happiness."
"We Vietnamese feel great anguish not only at our Southerners' sufferings but also at American mothers' and wives' loss of sons and husbands in the unjust war in South Vietnam waged by militaristic Americans... I hope American people will listen to this urgent appeal of mine."
1967
From the Chinese province of Guangzhou, after a month's stay for medical treatment, President Ho Chi Minh sent a poem to the Politburo in Vietnam:
Time goes fast like shuttles driving
Being far away from home for one month
News of victory came from thousands of miles
I mull over coming things while lying

By Duong Trung Quoc* and co-writers
*The author is a historian and member of the National Assembly