1946
President Ho Chi Minh, Defense Minister Phan Anh, and the chairman of Central Military Affairs Party Committee, Vo Nguyen Giap, attended a ceremony to inaugurate the new school year at Tran Quoc Tuan Military Training School in Son Tay town.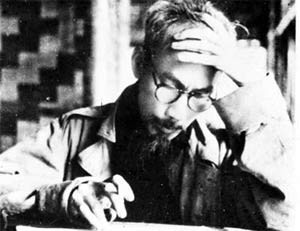 A filed photo of President Ho Chi Minh
Addressing the event, which marked the first regular training course for the Vietnamese army, the President said: "You come from many walks of life, so you should firstly show solidarity, sincere solidarity. You must have respect for discipline, follow the brave examples set by your seniors and set such examples for next generations.
"You are required to follow Chinese leader Sun Zhongshan's instructions: 'Good young people are those who want to do great work but not to become great mandarins. I hope you will always stick by the following motto: 'To be loyal to the country, to have devotion towards people'."
After handing a flag embroidered with the motto to headmaster Hoang Dao Thuy, the President said: "To be loyal to the fatherland and to have devotion towards people is a sacred duty, a goal and a major responsibility of yours, but it is also a great honor to soldiers who are in our country's first professional army."
After the ceremony, he returned to the capital for the Congress of Hanoi Young People.
1948
In a letter of thanks to elderly people in Vinh Dong Commune, Luong Son District, Hoa Binh Province, who presented him honey, President Ho Chi Minh wrote: "The love you have for me touches me. I hope you will encourage younger generations to actively take part in the patriotic movement, creating good conditions for our people to live in easy circumstances and being ready to give support to our soldiers and militias. That way, you will be regarded as directly participating in the nation's resistance war."
1950
During a visit to the "cryptography training course for Le Lai code officials" at the Ban Co woods in Dinh Hoa District, Thai Nguyen Province, he advised: "Cryptography is a secret, important, and proud job… Cryptography must be dealt with in a confidential, rapid, and accurate manner. Those who engage in it must respect the principles of secrecy and solidarity."
1953
In an article "Eighteen times already," the President analyzed the fact that the French cabinet had changed 18 times since World War II, including on May 22, 1953.
The article also pointed out that the war the French was waging in Indochina was increasingly causing instability to the French polity and made the country more dependent on the US.
"That point alone is enough to show that our position is stronger than our enemy's."
1963
In an article titled "A conference of great importance" published in Nhan Dan (The People) newspaper, which referred to the conference of leaders of independent nations in Addis Ababa, Ethiopia, President Ho Chi Minh called the event "a landslide change."
"The conference highlighted a shameful failure of the colonialism that has come to a dead end. Meanwhile, it featured great achievements of the revolution for national liberation. The Vietnamese people consider this success of the friendly African people as their own."
By Duong Trung Quoc* and co-writers
*The author is a historian and member of the National Assembly