1923
Nguyen Ai Quoc attended a meeting to celebrate the Paris Commune anniversary at the Prere Lachaise cemetery and gave out leaflets to members of the Club de Faubourg.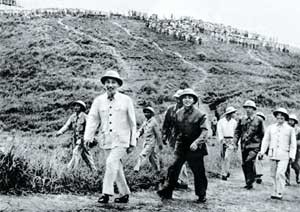 A filed photo of President Ho Chi Minh (in front). Behind him is Vo Nguyen Giap, who was promoted as General in 1948.
1945
From the Viet Bac Resistance Zone, President Ho Chi Minh remained in contact with officers of the U.S. Office of Strategic Services (OSS).
He had A. Patti, the head of the OSS, send a letter and two documents to a US mission in San Francisco, which was lobbying for the establishment of the United Nations and called for support for Vietnam's independence.
He also sent the OSS a "Black Book" that featured the severe starvation in North Vietnam and asked the agency to provide him a copy of the US Declaration of Independence.
He later provided A. Patti with a report on the construction of fortifications by the Japanese army in the northern province of Cao Bang and along a route to Hanoi.
1948
President Ho Chi Minh chaired a meeting of the government council and a ceremony to confer the rank of General on Vo Nguyen Giap.
In his memoirs, Finance Minister Le Van Hien wrote: "In a house situated by a large stream on one side and a mountain at the other side, and surrounded by trees… In a specially decorated room of the house, a fatherland altar was set up and many red banners were hung on its walls. Two of the banners read: 'A long-term resistance will ensure victory' and 'Unification and independence are certain'…
"In the presence of the head of the Standing Committee of the National Assembly and all of the cabinet members, President Ho Chi Minh asked Vo Nguyen Giap to step towards the altar.
"The President, moved to tears, was silent for a moment. In an emotional voice, he announced: 'In the name of the President of the Socialist Republic of Vietnam, I confer the rank of General to you so that you can command the army to fulfill the mission of protecting the fatherland the people have entrusted to you.
"In reply, General Vo Nguyen Giap expressed his thanks to the President, National Assembly, and the Government. He then took an oath that he would continue to work to bring independence and unification to the fatherland."    
1969
In a letter of thanks to the public, soldiers, and international friends for their wishes on his birthday, Ho Chi Minh wrote: "I wish the people, soldiers, cadres, elderly people, young people, children, and people of Chinese origin in both the South and North to show solidarity, fulfill their tasks, do business well, and gain greater achievements in the fight against US invaders to claim independence and unification for the country…
"I wish the friendship between the Vietnamese people and the peoples of other socialist countries as well as other friendly countries will be consolidated more and more."

By Duong Trung Quoc* and co-writers
*The author is a historian and member of the National Assembly