1946
In a letter to the people in South Vietnam before his official visit to France, President Ho Chi Minh advised them to remain patient. He wrote, "Ho Chi Minh is not a traitor to the country. Southern people are an integral part of the Vietnamese nation. A river may dry up, a mountain may wear out, but that truth will never change."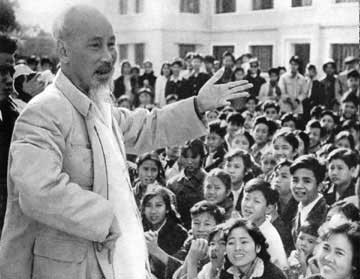 A filed photo of President Ho Chi Minh
He also sent a message to the Vietnamese Scout Association, accepting to act as the Honorary President of the Association and expressed his hope that it will be always willing to serve the fatherland.
Saying goodbye to cabinet members at Gia Lam Airport before leaving for France, he said to acting President Huynh Thuc Khang, "I must leave the country for a while for a national mission, so everything at home is entrusted to you. I hope you will be steady in dealing with any issue."
Accompanying him to France was French General Raoul Albin Louis Salan.
Nhan Dan (The People) newspaper published an article, "Spy Methods," from the series of "Sun Tzu's The Art of War" by Ho Chi Minh. He set out a principle: "Building a proper plan means knowing ourselves, as well as our adversaries, and this will ensure a win in every battle."
1949
In an article, "Thrift," in Cuu Quoc (National Salvation) magazine, Ho Chi Minh, under the pseudonym Le Quyet Thang, wrote, "Diligence must be saved as wealth. If our wealth runs out, we can create it again, but once time has passed already, we cannot regain it.
"Thrift is not miserliness at all. Not to spend money on necessary things means miserly, not thrifty. Living in luxury while others are needy is an extravagance. Practicing thrift means not being lavish. Therefore, every patriot must practice thrift."
Quan Du Kich (Guerrilla) newspaper published "Letter to the conference of militias," in which President Ho Chi Minh affirmed, "Our resistance is a people's war. So militias must be developed and operate strongly, and must closely coordinate with the national defense corps. In the current period of active preparation for a general counter-offensive, guerrilla warfare plays a key role."
1954
In an article, "The French suffer a blow on the head while the Americans pull a nervous face" in Nhan Dan, the President gave an analysis on the French's failure on the Indochina battlefield. "Thus, the U.S is becoming the main enemy to our army and people."
1966
In a telegraph message to the British philosopher Bertrand Russell, the President applauded his initiative to ask the Movement of Solidarity with the Vietnamese People to convene a conference in support of the Vietnamese people, as well as calling for an end to the war.
1968
President Ho Chi Minh worked with the Hanoi Party Committee Secretary on the situation of evacuation against US's air attacks.
1969
The President celebrated International Children's Day (June 1) with Hanoi children at the President's Office. He beat time for children to sing the songs "Unite together" and "Liberation of the South."

By Duong Trung Quoc* and co-writers
*The author is a historian and member of the National Assembly