1945
 
Ho Chi Minh began a journey from Pac Bo in Cao Bang Province to Tan Trao in Tuyen Quang Province.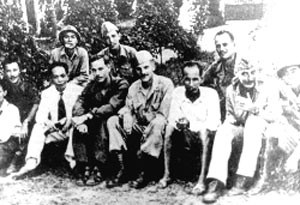 President Ho Chi Minh (3rd R, foreground) poses with agents of the US spy agency OSS in Hanoi in 1945
Two telegraphers, Mc Shin and F.Tan, were involved with the self-defense squad accompanying him. They were Chinese by birth, regular members of the US' Office of Strategic Services, or OSS, and had followed him to Vietnam from Kunming, China.
 
The delegation left from Khuoi Nam, going along the Lenin Stream through villages in Cao Bang and arriving at Tan Trao. It meant they were moving far away from Vietnam-China border to expand the Viet Bac revolutionary base.
 
1946
 
He wrote to mass education teachers. He said: "The Government's plan is to provide compatriots nationwide food and clothes and education. Therefore, our slogan is increasing production and fighting illiteracy."
 
"You are pioneers in the latter. You should endure hardships and sacrifices and strive to broaden fellow-citizens' general knowledge to build the nation."
 
"You work without salaries and are successful without the reputation. You are 'unknown heroes'. Despite being anonymous, you are helpful. Part of the nation's future lies in your efforts. No bronze statue or stone stele can compare with this honor."
 
1952
 
He attended a Politburo meeting to discuss military issues and budget for the resistance.
 
Following successful tests of the DKZ cannon fabricated by engineer in charge Tran Dai Nghia and his coworkers, Uncle Ho said the cannons would be studied and assembled in Yunnan, China, before being taken home to ensure safety.
 
1962
 
He delivered a speech at the opening ceremony of the third National Congress of Emulation Workers and Heroes.
 
He praised the achievements of the program in the 14 years since its launch in June 1968.
 
He said: "Model workers and heroes must be the motive force attracting other people to be progressive and humble and should do their utmost to learn constantly and be progressive.
 
"If so, our great labor force will surely overcome all difficulties, defeat poverty and backwardness, successfully build socialism, and the North and the South will get together in a house."
 
1965
 
He continued to attend a Politburo meeting to discuss shifting industrial production in the context of the war.
 
Speaking at the meeting, he said while the nation had to be prepared for the worst, it also had to plan for building the future.
 
"Our immediate slogan is 'defeat the US'. We are determined not to be afraid of losses. The long-term resistance will surely win. After defeating the US, we can do everything."
 
He also criticized chaotic working behavior and the lax system of reward and punishment, called for more focus on people, especially the youth, and forecast that the enemy might destroy dikes during the upcoming rainy season.

By Duong Trung Quoc* and co-writers
*The author is a historian and member of the National Assembly