1922

Le Paria published an article, "Communist Party and colonial issue," by Nguyen Ai Quoc, an alias of Ho Chi Minh.
The article said, "Metropolitan communists know your sufferings. The Party aims to attempt to rescue all brothers in colonies. The Party is willing to let you advocate in the Party's newspapers. The Party wants you to show solidarity with each other. For the sake of world peace, people's freedom and prosperity, and exploited people, we should show solidarity to fight against oppressors."

This document was approved at the French Communist Party's second Congress.

On the same day, the newspaper also published another article of his, "The mistreatment of Amduni and Ban Benkhia," which reported colonial crimes in the then French colony of Tunisia.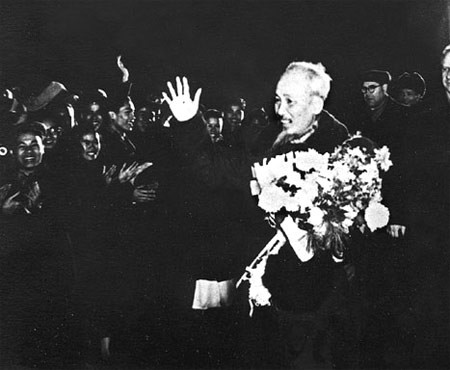 President Ho Chi Minh visits the Soviet Union in 1957 (file photo)
1941
Vietnam Doc Lap (Independent Vietnam) newspaper published his poem "Ca binh linh" (Song of Soldiers).
1945
President Ho Chi Minh wrote to US Secretary of State James Byrnes.
The letter said, "In the name of the Vietnamese Cultural Association, I'd like to express the association's wish to send a delegation of 50 Vietnamese young people to the US to, on the one hand, establish cultural ties with the US youth and, on the other hand, to continue studies on techniques and agriculture, as well as other professional fields.
"[The association] wishes to set up relations with US people, who have noble viewpoints on generous ideas about justice and international humanity and whose modern technical achievements are strongly attractive to Vietnamese intellectuals."
1950
In a letter to elderly people at Vinh Dong Commune in Hoa Binh Province, he said, "Thanks to the people's ardor, soldiers' bravery and the Government's determination, the province has been liberated from cruel colonists.
"We have to show close solidarity, and emulate together to support the fight, increase production and be diligent, thrifty, pure and honest. Don't be complacent and underestimate the enemy, but be careful and beware of the enemy."
Also at that time, after the Frontier Victory, he composed a poem to present to lawyer Phan Anh.

1953
He sent congratulations to leaders of the Soviet Union on the occasion of the 36th anniversary of the Russian October Revolution.
He said, "The intimate friendly relations between Soviet and Vietnamese people are a valuable support for Vietnamese people in the cause of fighting to liberate the nation."
1959
In a letter to celebrate a congress of Hanoi's young producers, he said, "I wish you good health, happiness and close solidarity. I wish that you will always emulate each other, and use all the spirit and energy of youth to lead the way in building socialism."

By Duong Trung Quoc* and his assistants
The author is a historian and member of the National Assembly