1924
From Guangzhou, China, Nguyen Ai Quoc wrote letters to the Communist International, the editors of Rabotnitsa magazine, and the general secretary of the Farmers International in Moscow.

In them, he informed that he worked for the office of Mikhail Markovich Borodin, the counselor for the Soviet Union's Government to the Sun Zhongshan administration.

He also informed them of the social and political situation in China and expressed his interest in collaborating with Rabotnitsa by writing a column titled "Letter from China."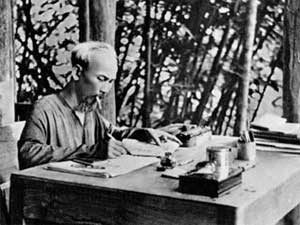 File photo of President Ho Chi Minh
He also expressed particular concern about propaganda aimed at Chinese women, a large force that had sympathy for the Russian revolution. He wrote: "The Russian revolution made Chinese women understand that women also have the right to live and work and that they must struggle along with men to achieve that right and fight their exploiters. The public has never seen such excitement among Chinese women, who can be seen as a minor revolutionary force." 
  
1942
During his detention in a jail in the Chinese province of Nanning, Ho Chi Minh composed some poems describing the strong will of a prisoner who suffered hardship in prison.

One of them is "Chiet tu" (Graphology), which was later translated into Vietnamese. In English, it reads:

The prisoner hopes to get out of prison to perform national missions
His sincere enthusiasm has been proved through hardship
His biggest strength is his interest in national affairs
The "dragon" will fly up when it is released from prison

1945

In "Vietnam-China Friendship" in Cuu Quoc (National Salvation) magazine on the birth anniversary of Sun Zhongshan, President Ho Chi Minh wrote: "On the birth anniversary of the Chinese revolutionary leader, Sun Zhongshan, I want to reiterate the Democratic Republic of Vietnam's policy towards Chinese living in Vietnam.
"China and Vietnam are two neighboring countries that have had close cultural, historical, political, and economic relations for thousands of years. Both our peoples must consolidate our solidarity to promote our friendship and to deserve to be 'followers' of Sun Zhongshan."

1950
The President sent an open letter to French soldiers who had been sent home from Indochina and set up an organization to demand a repatriation of their counterparts still fighting the war in Vietnam.

The letter read: "The Vietnamese people deeply appreciate your efforts as well as efforts of French mothers and workers. Through your actions, we Vietnamese know that they are given great support by millions of loyal French friends, who never mistake the French imperialists for the French people and want to tighten the bond of friendship between the French and Vietnamese peoples.

1959

Attending a conference of the Party Central Committee to discuss the policy on building socialism in the North, the President said: "We should have both long- and near-term vision since if we only take a long-term view, we may fail to resolve the practical problems we are facing now.

"Like some other countries, Vietnam considers agriculture as its leading economic force. We must develop agriculture from bottom to top.   Agricultural mechanization must be carried out at the same time with technical renovation. Industries, heavy and light, must serve agriculture … We must focus our efforts on increasing productivity and improving people's living conditions.
By Duong Trung Quoc* and his assistants
*The author is a historian and member of the National Assembly