1926
From Guangzhou, China, Nguyen Ai Quoc sent his first article on the "Incidents in China" to L'Annam newspaper published in French in Vietnam.

Although it described the major political events in China, the article had a profound effect on the political situation in Vietnam.

The newspaper was published in Saigon by Vietnamese lawyer Phan Van Truong, one of Nguyen Ai Quoc's colleagues when the two lived in France.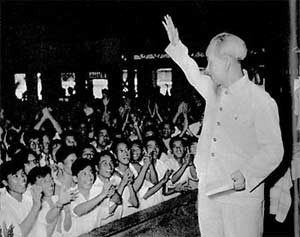 President Ho Chi Minh greets delegates at the Teachers' Congress in North Vietnam in 1958 (File photo)
1942
While in jail in the Chinese province of Nanning, Nguyen Ai Quoc composed a poem titled "Dao Ting" (Early Sunlight) in Chinese. It was later translated into Vietnamese by Hue Chi.

In English, it reads:

The early morning sun shines over the jail
Driving away the thick fog and darkness
The space gets filled with vitality
Making prisoners happy

1945
Attending a Government Council meeting where inspection activities were reviewed, President Ho Chi Minh said: "Every minister can conduct an inspection at an area near Hanoi. The Ministry of Interior will draft a plan for the inspection. There have been cases of embezzlement at some government agencies. Relevant ministries must investigate them and recommend to the Government what punishment should be given to those who committed corruption.

1947
In a letter of praise to people in Duyen Trang Commune, Tien Hung District, Thai Binh Province, where everyone aged above eight had become literate, the President wrote: "Learning is a life-long thing. The more people learn the more educated they become. People should be taught history and politics, geography, and even hygiene practices. They should also try to increase production and support the resistance war."

1948

The President wrote a letter of praise to Hoang Huu Kiet and some other elderly people for their great contribution to the resistance in Quang Tri Province.

The letter read: "Despite your age, you have been willing to take part in the resistance. You deserve to be the heirs of the elderly patriotic personalities of the Tran dynasty.

"Now that our people, from old to young, are united and strongly determined to fight the enemy, our resistance war will surely achieve success, our nation will surely become independent, and our country will surely be unified…"

1962
Speaking to soldiers at the Van Hoa navy base in Quang Ninh Province, the President reminded them of Tran Khanh Du, a famous general under the Tran Dynasty, who used a clever military strategy to seize supplies from the Yuan invaders.

He said: "As naval soldiers, you should love the island as your own home and make it more beautiful and prosperous for its own development and also for the country's interest.

Attending a Politburo meeting to discuss the military situation in the South and Zone V, the President said: "We are fighting American invaders who are stronger than us in terms of military power … We must be clever in combining political and military elements in our fight.
"For now, we should not conduct direct military operations but persist with guerilla tactics everywhere to separate the enemy's troops. The situation now is not similar to the resistance against the French. We should be more self-motivated and adopt more flexible military tactics."
By Duong Trung Quoc* and his assistants
*The author is a historian and member of the National Assembly