1942
While in jail in the Chinese province of Nanning, Ho Chi Minh composed a poem titled "Viet huu tao dong" (Uprising in Vietnam), in which he highlighted the will of a detained revolutionary. The poem was later translated into Vietnamese by Nam Tran.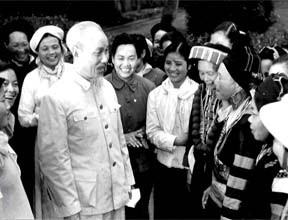 President Ho Chi Minh with ethnic minority women delegates at the third National Women's Congress in 1961 (File photo)
In English, it reads:
It would rather die than be a slave
The flag of justice is flying everywhere
I feel unhappy when constrained in jail
Could not rush into battlefields
1945
In "Talents and Country Building" in Cuu Quoc (National Salvation) magazine, President Ho Chi Minh wrote: "After 80 years under the suppression of the French colonialists, our country has been weakened in every aspect, except our people's will - which is very noble.
"Now to safeguard the country's independence, we must join the re-building of our country with their very will.
"This reconstruction requires talents. Our country has not many talents now, but if we are clever in seeking and employing them, we will give a boost to the development of talent.
"Therefore, I call on anyone who is willing to help rebuild the country by using their talent or initiatives to send their specific proposals to the Government for possible application."
1950
In a letter to people in Son Ha District, Quang Ngai Province, following troubles resulting from the wrongdoings of local officials, the President advised that local people should be clear-sighted, resume normal life, and not follow the enemy's enticement.
He said: "On the spirit of affection and solidarity, I hope everybody follow my advice to continue to act under the Government's instructions. If local officials committed wrongdoings, everybody can report them to the Government or me. The Government and I will punish guilty officials and will not leave people in injustice."
In a confidential massage to local authorities and other agencies in South Central Vietnam, he instructed: "You should carry out criticism and self-criticism, from top to bottom and vice versa, to correct those shortcomings."
1965
Nhan Dan (The People) newspaper published "The Japanese public opinion and people warmly support our people's fight against American invaders to save the country," which was written by President Ho Chi Minh.
In his article, the President cited many Japanese articles that denounced the war waged by the US and expressed support to the Vietnamese people's fight against them.
He wrote: "I would like, on behalf of our people, to thank the enthusiastic support from the Japanese people and public opinion to our fight against American invaders.
"Our people, from North to South, have united and are determined to fight America invaders to safeguard the country. We are given support and sympathy by the public opinion and people in the world, including Japan. Therefore, our enemy will surely fail and we will surely win the war."
1966
Attending a Politburo meeting to discuss diplomatic and military issues, the President advised: "When we publicly announce our policy on fighting while negotiating, we must pay due attention to the relationship between Vietnam and the Soviet Union and China."
1968
The President met special advisor Le Duc Tho before the latter left for Paris to attend negotiations with the US government on putting an end to the war in Vietnam. 
By Duong Trung Quoc* and his assistants
*The author is a historian and member of the National Assembly