1945
Attending a Government Council meeting held to discuss issues related to elections, agricultural development, and justice, President Ho Chi Minh asked the Government to announce that everyone, no matter which political parties they belonged to, had the right to contest elections.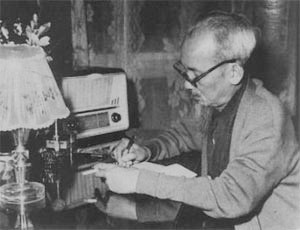 File photo of President Ho Chi Minh

1946
Addressing the opening ceremony of a campaign titled "Voluntary support for soldiers in winter," the President said: "It was the great sacrifice of soldiers at the frontline that helped liberate our country. While we are at home enjoying a warm family life, soldiers at the frontline are suffering from a frosty winter. Therefore, everyone around the country should contribute to the campaign to support soldiers in winter.

"If our people unite in supporting the soldiers, no force can defeat that unity and our struggle for the country's independence and unification will surely be successful."

He sent two of his shirts as a gift to soldiers on the front.

At a press conference on political issues the same day, asked to comment on the result of the French elections, he said: "Whether the rightists or leftists win the elections, the French people will continue to support the Vietnamese people's struggle for independence and unification … Whatever the election results are like, the Vietnamese people will continue to struggle for the country's independence and unification as long as the country remains in the French Union."

Regarding France's initiative to establish the Indochina Union, he said: "If something is set up to constrain our right to live in freedom, it will be a failure, since we, like everyone else, love freedom. Do not attempt to cheat us!"

1953
In a poem tilted "The Nava scheme: The mountain has brought forth a mouse" in Nhan Dan (The People) newspaper, the President praised people and soldiers in Thanh Hoa and Ninh Binh Provinces for their fight against the enemy's raids.

The poem read:

Our troops are very brave
They are determined to defeat the enemy
Driving them away from Nho Quan [a district in Ninh Binh]
Preventing them from entering Thanh Hoa
For twenty consecutive days
Four thousand invading troops were killed
The Nava scheme was brought to ruin
Though driven into a corner
The enemy can launch a counterattack
Do not be complacent
Let's not underestimate our enemy
Let's be on high alert
Soldiers and people should unite
In the fight against them
Our flag will fly one day
When we win the war
1954
Attending a Politburo meeting to discuss the implementation of the Paris Agreement, the President said: "In the political struggle against French colonialists, we should court support from everyone, including French Catholics … That struggle needs collaboration between the public and political organizations. It must be carried out continuously and must be aimed at specific targets. Everyone, with specific assignments, must cooperate in that struggle.   
1959
Addressing a Party Secretariat meeting on a plan to rebuild Hanoi, the President said: "Designs of architectural works, including roads, drainages, and power grids, must be compatible with each other and help streamline traffic. Construction must be planned well to avoid unnecessary repairs and rebuilding. Construction works must be quick, cost-effective, and of high quality. We should also seek assistance from countries that are in sympathy with our country.

1967
The President sent a letter of praise to and conferred a medal on a women's platoon in Vo Ninh Commune, Quang Ninh District, Quang Binh Province, for gunning down a US jet plane.  
By Duong Trung Quoc* and his assistants
*The author is a historian and member of the National Assembly