1945
President Ho Chi Minh attended a Government Council meeting held to discuss a report by the Agriculture Ministry, the organization of people's committees and the authority to be vested in them, and the announcement of a French translation of the Constitution.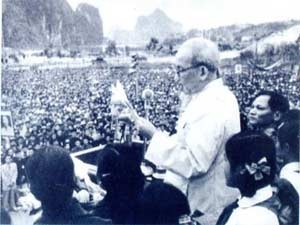 File photo of President Ho Chi Minh
The same day he attended a camp get-together of the Scouts to mark the 15th anniversary of the establishment of the organization.
1946
During a visit to Bac Ninh and Bac Giang Provinces, the President met some French priests and urged them to help promote solidarity between religious and non-religious people.
He also visited several schools, Chinese communities, and Dinh Bang and Phu Luu villages, where the second session of the National Assembly was to be held in case of war.
The same day, in a message sent to the French High Commissioner in Saigon, he reiterated that South Vietnam was a part of Vietnam under the Provisional Agreement signed on September 14 and hoped relations between Vietnam and France would be settled through peaceful negotiations.
1948
The President attended a Government Council meeting, which Finance Minister Le Van Hien recorded in his diary as follows: "More than 20 officials attended the meeting. Pham Ba Truc replaced Bui Dang Doan as a representative of the NA. The meeting discussed some 50 issues and went on until midnight. Before the meeting ended, the President advised everybody to return to their places early next morning. The meeting received intelligence that the French would attack Viet Bac later this month."
1950
In a message to the Peace Conference held in Vietnam to mark the anniversary of the establishment of Vietnam's Committee for World Peace Protection, the President said: "The Vietnamese people, like other peoples in the world, love peace and wish to build a democratic society.
"To safeguard peace, we must fight imperialism and the Vietnamese people's resistance war aims to defeat it for the sake of peace."
He called on the Vietnamese people to "unite widely and closely to serve the protracted resistance war against French colonialists and American interferers."
1954
Attending a Politburo meeting held to discuss preparations for a general election under the Geneva Agreement, the President said the agency should carefully consider policies, including the one on religion.
1965
In a letter to US Professor Linus Pauling, the President thanked the American people who had decisively asked the US Government to end its war of invasion in Vietnam.
The letter read: "True peace cannot be separated from a nation's true independence and freedom … The US' invasion of Vietnam is the sole cause of the current serious situation in Vietnam.
"Our people greatly appreciate the American people's struggle for ending the war and are deeply touched to know that several Vietnam supporters, including Norman Morrison and Roger Allen LaPorte, have burnt themselves to death to protest the Vietnam War.
"On this occasion, I would like to thank the American people for their struggle to persuade the US Government to end its invading war in Vietnam and to send our kind affections and respect to the families of the people who fell for the sake of our people."       
By Duong Trung Quoc* and his assistants
*The author is a historian and member of the National Assembly