1939
Nguyen Ai Quoc, who called himself Ho Quang, returned to Guiyang, the capital of China's Guizhou Province, to try and make contact with his comrades from Vietnam. At that time, he was looking for a way to return to Vietnam.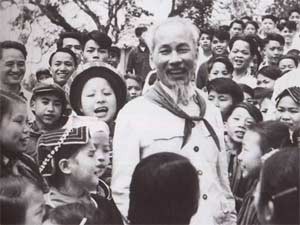 File photo of President Ho Chi Minh

1942
While being taken from Nanning to a jail in Wuming, China, Ho Chi Minh composed a poem in Chinese titled "Giai vang Vu Minh" (Escorted to Vu Minh), which was later translated into Vietnamese by Van Truc and Van Phung.

It reads:

After detention in Nanning
I was escorted to Wuming
Through a roundabout route
It took too much time
How boring it was!

1943
To get himself more involved in movements against the scheme to bring Chinese troops into Vietnam, in mid-November Ho Chi Minh assumed the post of deputy chairman of the League for the Vietnamese Revolution led by Nguyen Hai Than.

1946
Receiving a visiting delegation that arrived in Hanoi from south central Vietnam and the Central Highlands, President Ho Chi Minh expressed the Government's concern about the situation in those areas.

He met a French Government representative in Hanoi the same day to seek ways to ease the severe tension that may trigger a war. 

1950
In a letter to French mothers and wives whose sons and husbands were killed while serving in Vietnam, the President informed them of the Government's care for their loved ones' graves. He wrote: "We have assumed a sacred obligation to keep those graves intact until the war ends and you can take back your relatives' remains. Hopefully, our action will help alleviate the great pain you are suffering."

1954
In an interview to French newspaper Regards, the President affirmed the Government's desire to establish economic and cultural relations with France on the basis of equality, mutual benefit, and friendship.
1965

Speaking to visiting British journalist Felix Gerin and his wife in Hanoi, the President informed them about the Vietnamese Government's stance towards the US' suggestion for bilateral negotiations.
"Our people wish to live in peace, but true peace requires true independence. The argument that South and North Vietnam are two separate countries is dishonest and deceptive. It is as wrong as saying that the south of the US is separate from the north.  
    
"The country of Vietnam is one and the Vietnamese people are one … The image of the US, the homeland of George Washington and Abraham Lincoln, has been tainted by its invasion of Vietnam. I want to tell the American people that we maintain friendly relations with them but we are determined to fight American invaders until we achieve total victory."

The same day he sent letters of thanks to two American celebrities, Dr Benjamin Spock and Steward Huger, who was the president of the Washington Committee for Healthy Policy on Atomic Weapons, for their objections to the Vietnam War and for their support for the Vietnamese people's aspirations for peace."
By Duong Trung Quoc* and his assistants
*The author is a historian and member of the National Assembly