1921
Nguyen Ai Quoc attended a meeting of a cell of Communist Party of France in Paris's District 17.
French spies continued to keep stabs on his political activities.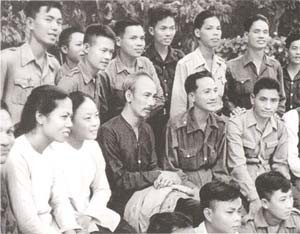 President Ho Chi Minh with members of the South Vietnam delegate that visit the Viet Bac Resistance Zone in October 1949 (File photo)
The same day he took part in the drafting of a report on the Indochina Sub-Committee under the Communist Party of France's Colonial Research Committee.
He suggested the report should include the following: "The propaganda should be conducted through newspapers published in France; our forums or French parliamentarian forums; and methods that suit the educational and civilization level of people in French colonies.
He also advised that such propaganda should be directly led by the Party.
1946
In "Looking for people with talent and virtue" in Cuu Quoc (National Salvation) magazine, President Ho Chi Minh wrote: "Our country requires a reconstruction. To reconstruct it, we must have talents. Among the country's population of 20 million people, there [ought to be] many with talent and virtue.
"Sometimes the Government fails to create good conditions for talented people to take part in the country's reconstruction. I accept that shortcoming. I now want to correct it by recruiting talents, and provinces and cities must seek talented and righteous people who can serve the country and immediately report them to the Government.
"Such reports must clearly provide the name, residence, job, abilities, and aspirations of candidates. Within one month, all local authorities must submit reports to the Government."
The same day the President signed a decree on the nomination of many military officials who later became talent commanders of the Vietnam People's Army, including Hoang Van Thai, Van Tien Dung, Nguyen Son, Le Thiet Hung, and Phan Phac.
1958
Visiting the Trade Union School, the President advised: "To accomplish mass mobilization, trade union cadres must take the lead in movements they launch and must become good examples for the public to follow… We must be confident in the public's strength and initiatives. We must properly carry out the policy on mass mobilization, otherwise, despite our mobilization, the public will not respond.
Mid-November 1964
In a letter to people in storm- and flood-hit southern provinces, the President wrote: "Recently, some southern provinces have continuously been stricken by storms and floods. Thousands of people have been killed; tens of thousands of houses were destroyed; and numerous villages and paddy fields were ruined.
"'When the blood sheds, the heart aches', all northern people and I were broken-hearted to learn the miseries southern people are suffering…. Our people have a heroic tradition, not resigning themselves to hardship. Our people will certainly continue our hard struggle to liberate the South, achieve peace, and unify the country in order to make southern and northern people reunited."
1967
The President sent a letter of praise to and conferred medals on a women's platoon in Hoang Hai Commune, Hoang Truong District, Thanh Hoa Province, for gunning down two US jet planes.           
By Duong Trung Quoc* and his assistants
*The author is a historian and member of the National Assembly