1942
While jailed in China by the Chiang Kai-shek administration, Ho Chi Minh composed a poem titled "Tan Duong nguc trung hai 22.11" (A child in Tan Duong prison November 22) that described a heart-rending plight. 
The poem was later translated into Vietnamese by Nam Tran.
In English, it read:
"Woa, woa, woa…," the child wails
Since his dad is a draft dodger
He, just about six months old,
Has to live with his mom in jail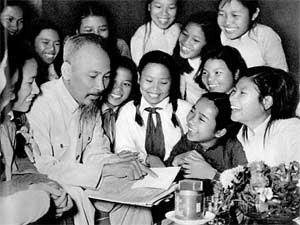 President Ho Chi Minh with Hanoi students who visited him in May 1959 (File photo)
1945
Attending a Government Council meeting on rice supply, President Ho Chi Minh warned there should be no shortcomings as the Chinese Nationalist Party's troops might treat this as a pretext for their response against Vietnam.
The same day the President signed a decree on organization, power and functions of people's councils and administrative committees of all levels.
1946
The President sent a letter of thanks to the railway sector for its good service in safely taking him to Hanoi from Hai Phong, where he returned after a working trip to France.
1950
In a letter to the Bac Kan Province authorities, the President gave them instructions on issues that should be improved.
Commenting on their working style, he wrote: "Before doing anything, no matter how big or small it is, you should have a plan for it and give it careful consideration. You must clearly explain it to the public so that they can do it happily. You should avoid officialdom."
Regarding simplifying the administrative apparatus and improving officials' capabilities, he advised: "Government agencies and organizations must thoroughly streamline their administration apparatus to save manpower. Every official and agency must improve their performance; and every agency must select and use staff members properly and efficiently. These two tasks must be done at the same time."
November 1950
In a letter to elderly people in Vinh Dong Commune, Luong Son District, Hoa Binh Province, the President wrote: "We must help unite the entire people, try to support the resistance war, and step up production. We must be diligent, thrifty, honest and righteous. Do not be complacent or underestimate our enemy! Be on high alert! Elderly people should encourage everyone to support the resistance. Government officials and soldiers should be close to the public, help them, teach them, and lead them in the resistance war."
1951
In "Boosting the guerilla movement" in Nhan Dan (The People) newspaper, the President wrote: "We already have our people as a foundation for our resistance war; we simply consolidate that foundation. We already have cadres; we simply give them more training. We already have a guerilla movement; we simply boost its development. The Soviet Union's experience in guerilla warfare will help us in our resistance and we will surely be successful in expanding our guerilla movement."
1967
The President asked the minister in charge of the Prime Minister's Office to convey the following instructions to Hanoi authorities: "An evacuation must be carried out rapidly, thoroughly and thoughtfully. People in areas vulnerable to the enemy's attack must be totally evacuated. Problems faced by people and businesses must be resolved. Evacuated people must be visited and given support. Minimize casualties to people and encourage them to make shelters. Children must be guarded against cold weather."
By Duong Trung Quoc* and his assistants
*The author is a historian and member of the National Assembly