1945
Speaking at the National Salvation Youth Congress, President Ho Chi Minh told members about young people's duties towards the country: "The organization's operation remains limited since it has yet to persuade young people to join it. If the organization fails to attract a section of youths, it will be like a man who walks on one foot.

He told them "whatever you do, you must be determined to do it well."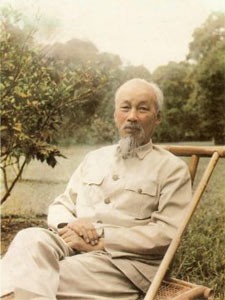 File photo of President Ho Chi Minh
The same day he received some representatives of the Vietnam Scout. The reception was later recorded by Prof. Le Duy Thuoc in the following manner: "The President was sitting working at his office on the second floor of the Northern Office. His face looked tired as a result of the malaria he suffered in Tan Trao. Noticing us standing outside waiting to meet him, he stepped out of the office and asked us to come into the next room.

After receiving a shot from a doctor, he turned to us and said: "I thank you all for coming. You should return now and continue to contribute to the fight against poverty, illiteracy, and foreign invasion."

1949

In a letter to the congress of the National Salvation Farmers Association, he said: "Our country is agricultural, with over 90 percent of our population being farmers… Farmers are a great force for the nation and loyal allies of workers. Our resistance war and national development cannot be successful without the support of that force. Our farmers are deeply patriotic and determined to struggle and sacrifice for the nation's independence … Mobilizing farmers means encouraging all of them to motivate themselves and clearly understand their rights and interests and that of the nation.
"To make the mobilization a success, officials in charge of farmers' issues must avoid bureaucracy and formalism. Officials at the provincial level must go to districts to visit farmers, and officials at the district level must visit communes and villages … Cadres must make fact-finding trips to see, hear, talk about, work on, and think about issues concerning farmers."

November 1949

In a letter to a conference of cadres in charge of children's issues, the President advised: "In educating children, you must train them to be patriotic, love their compatriots and work, respect discipline, be hygienic, and improve their knowledge.

"However, you must help keep their innate light-heartedness, activeness, and youthfulness and avoid making them feel old. You should make them feel happy with their studies and also teach them some skills while they are playing. At home, at school, or in society, children should both study and play. Today they are children, but tomorrow they will become citizens… Children's education is really a science."

1965

Speaking at the "Three Readiness" Congress, the President advised: "This movement has achieved some good results, but it should be conducted in a practical and modest manner, avoiding formalism. You should encourage agencies, provinces, cities, and sectors to compete with each other for the sake of progress and advancing everyone's interests.
By Duong Trung Quoc* and his assistants
*The author is a historian and member of the National Assembly