1953
In reply to the question, "If a neutral country acts as an intermediary for the negotiation between Vietnam and France, will you agree it?" by a Swedish newspaper, President Ho Chi Minh said: "It may be welcomed, but an armistice negotiation is the business of the Government of the Democratic Republic of Vietnam and the French Government."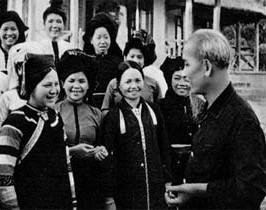 President Ho Chi Minh meets ethnic minority women in Viet Bac in 1959 (File photo)
It was this statement that triggered a political process that led to the signing of the Geneva Agreement in 1954.
In the article "Activeness and Hastiness" in Nhan Dan (The People) newspaper, the President said: "Activeness must be connected to a revolutionary morale and practical thinking. Activeness ensures success in everything. Meanwhile, hastiness can be seen as a negative characteristic. Anything that is done in a hasty manner will surely result in failure."
He concluded the article with the following two verses:
Activeness helps accomplish everything well
Hastiness results in nothing.
1954
In "Owning to whom have we got peace?" in Nhan Dan, he wrote: "Our just struggle has been successful and we have achieved peace. That is because of the great unity of our people and the bravery of our soldiers, along with support from the world's peaceful force. That is also because of heroic soldiers who have fallen for the country's independence and freedom.
"Hundreds of heroes and martyrs achieved feats to the surprise of Heaven, Earth and God. They passed away but their great fame remains forever. We should record their feats, keep them in mind, and encourage our people to overcome hardship and contribute to the rebuilding of the country.
The article was concluded with the following two verses:
Owning to whom have we got peace?
It is thanks to soldiers fallen for the sake of people
1959
Attending a Party Central conference on the development of the North, the President said: "The struggle for the country's unification will not be successful if the people's living conditions are not improved."
1962
Speaking at a Politburo meeting on the financial plan for 1963, the President said: "Our people have both worked and learnt for the past several years. Fortunately, we have identified shortcomings, imbalance and wastefulness during the period. We now must correct those "diseases" and there should be cadres who act as doctors to look for ways to treat such disease.
"I suggest the Politburo assign some officials to work together on a regular basis, possibly once every six months, to look into the 'diseases' and find 'therapies' for them.
"Any policies or disciplinary forms must be considered carefully before they can be applied."
1963
In "It is necessary to set up irrigation teams" in Nhan Dan, the President said: "To bring better lives for the people, we must step up agricultural production. To develop agriculture well, we must have effective irrigation works.
He concluded the article with a poem:
Bringing water to fields under the moonlight
A handful of water means hundreds of golden paddy ears
The irrigation team should always be ready
The better it works the more well-off the people are
By Duong Trung Quoc* and his assistants
*The author is a historian and member of the National Assembly