1945

Fearing the enemy could make use of an emerging discrimination against overseas Chinese in Vietnam to carry out sabotage activities, President Ho Chi Minh launched an appeal for solidarity between Vietnamese and Chinese in Cuu Quoc (National Salvation) magazine.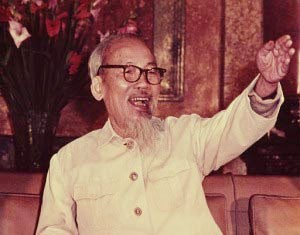 File photo of President Ho Chi Minh
"Besides giving support to the resistance war in the South and contributing to preparations for the general election, everyone must help the Government in the implementation of its policy towards overseas Chinese in Vietnam … We must seek ways to build and develop solidarity between Vietnamese and Chinese," the appeal said.
The President signed Decree 223 that stipulated penalties for bribery and embezzlement.
1950

In letters to people and soldiers in the northern provinces of Hoa Binh and Lao Cai, the President advised them to unite and love and support each other. He asked people to increase production and support the Government and soldiers in preparing for a general counterattack against the enemy to achieve total victory.
He also asked them to carry out essential tasks, which he said "must be done immediately," including honoring and rewarding excellent soldiers and people, summing up experiences from the resistance war, taking strict security precautions, increasing production, and supporting the Government's policy on national unity.

In an interview to Su That (The Truth) about the victory in the Border Campaign, the President said: "After the victory, our people and soldiers must not be complacent or underestimate our enemy. We must be more vigilant, active, and decisive …"  
He also said: "We must try our best to correct shortcomings and the mass media should take a part of the responsibility for it. That way we can achieve better performances in the movement of patriotic emulation."
1954

Speaking at a Politburo meeting on economic negotiations between Vietnam and France, the President advised: "Keep in mind that we must achieve our political goals in our economic and cultural relationship with France. One of our principles of negotiation is reciprocity … Cultural relations must help economic development and economic relations must be for the sake of political goals…"
By Duong Trung Quoc* and his assistants
*The author is a historian and member of the National Assembly