1926

Thanh Nien (Youth) in Guangzhou published an article titled "Annamite people in Siam" by Nguyen Ai Quoc.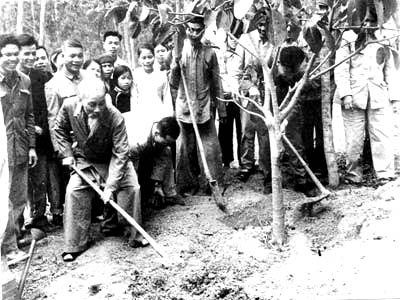 President Ho Chi Minh plants a tree in Ha Tay Province in 1969 (File Photo)
Having carried out activities in the overseas Vietnamese community in Thailand for many years, he analyzed the lives of 30,000 Vietnamese "who have been driven from home by poverty, whose homes are shattered and their members have gone, and who have to leave the land of their ancestors and have been adrift on foreign soil."

The article also criticized harmful social behavior and advocated solidarity in the community to save the country.

He wrote, "Our people have the same situation of drifting in a foreign land. Normally, Annamite people in Siam would love and help each other but unexpectedly, they continue the savage habit of killing, cheating and bringing lawsuits against one another, and non-Catholics and Catholics also killing each other, making Siam and Laos disregard [Annamite people]. It breaks my heart to say that. "

1945

At a Government Council meeting, President Ho Chi Minh regulated diplomatic policies saying, "To France, the government's principles are determined to gain independence, and are only able to yield a little to cultural issues; to China, having the same principle not yielding to Vietnam's independence issue."

1948

He wrote to Le Thuoc, a patriotic personality and chairman of Thanh Hoa Province's Committee for Increasing Production, to explain the meaning of the Government's policy on reducing rent.

The letter said, "Reducing land rent by 25 percent is fair and profitable for both landowners and farmers, therefore, there is no reason for a division…and for landowners to become discouraged or [farmers] to leave the farm. Resistance forces have been dependent partly on the 'wealthy farmer class' but mostly on middle-peasant and poor peasant classes. People who have money will donate money and those who have strength will donate strength. So it is a great solidarity."

At the end of the letter, he asked Mr. Le Thuoc to explain the policy to landowners who did not understand.

1954

The President wrote an article titled "Doctor says" in Nhan Dan (People).

He said, "After 80 years of losing the country and 15 years of being destroyed by war, the social and economic consequences are very bad. Like other countries, recovering the economy and society will take time and effort. Like in a doctor's treatment plan, in which [patients] have to take bitter pills over a long period to get well."

1956

Nhan Dan published his article titled "Planting tree on Tet holidays".

With the aim of taking wood to build houses for farmers, he launched the article with the hope that on the 30th anniversary of the establishment of the Party, it would start a new tradition.

The articled read, "It is a long-term but easy emulation which all people – from elders to children – can join ardently."

1965

He wrote to Yen Bai people and soldiers to praise their achievements in shooting down the 800th airplane of the US.
By Duong Trung Quoc* and his assistants
*The author is a historian and member of the National Assembly