1920
In "In Indochina" in L'Humanité, the Communist Party of France's daily newspaper, Nguyen Ai Quoc highlighted a strike by Hai Phong Port workers who protested the sending of Vietnamese troops to Syria.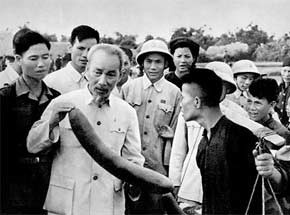 President Ho Chi Minh meets farmers at Ai Quoc commune in the northern Hai Duong Province in 1957 (File photo)

The story said: "We strongly oppose the sending of Vietnamese troops to Syria… France is leaving millions of Vietnamese workers in starvation while sending thousands of others to Syria as cannon-fodder."

1946

At the opening ceremony of the Practical Trade School in Hanoi, President Ho Chi Minh advised students to practice a new cultural life and study hard to become good economists in future.

1948
In a letter of praise to a guerilla unit and other forces for their attack on the capital the same day, the President wrote: "Hanoi is the military, political, and economic center of the enemy. Guerilla and national defense forces must launch frequent attacks on it while waiting for a general uprising. The capital's guerillas have won a battle for the first time. I believe that you will continue to achieve more resounding victories."

1949
The President issued a decree on a two-year military service for men aged 18 to 45 that can be extended depending on the situation, and another on establishing the Inter-Regional Viet Bac where the resistance's high command was to be located.

He announced that the outstanding military unit would be awarded a Thompson gun he had been presented by a delegation of Southern people.

1951
In a letter to regular troops and guerillas who took part in the Hoa Binh Campaign, the President wrote: "Previously, we had to lure the enemy into our ambush to kill them. Now since they show themselves at many places we can attack them easier. It is a good chance for us.

"To win a battle, we must be motivated, quick-witted, and decisive and keep military secrets. We launch an attack only when we are sure of victory. Never underestimate the enemy… I am waiting for news of your victories…"

1953
Cuu Quoc (National Salvation) magazine reported that the President had sent a sum of VND1 million to the South as prizes for military units that achieved the biggest victories on the battlefield.
1954
At a reception for the Soviet Union's first extraordinary and plenipotentiary ambassador to Vietnam who presented his credentials to him, the President said: "In our struggle for peace, unification, independence, and democracy, we Vietnamese are always given sincere and generous support by the Soviet Union people. We always feel deep affection and gratitude towards them.  

1964
At a Politburo meeting on preparations for the 10th Party Central Conference, the President said: "More attention should be paid to practicing thrift since it will result in accumulation of capital for production. We should also ensure balanced development of the economy, be aware of the differences between our economy and other countries' in terms of market and price. Labor issues should be on our agenda since labor creates value and it must be used in the most efficient way."
By Duong Trung Quoc* and his assistants
The author is a historian and member of the National Assembly