1925
Nguyen Ai Quoc (an alias of Ho Chi Minh) wrote a letter to the presidium of the Peasant International under a Russian name, Nilovski, and commented on Chinese farmers. In the letter, he said that he had failed to contact the Executive Committee of the Chinese Nationalist Party.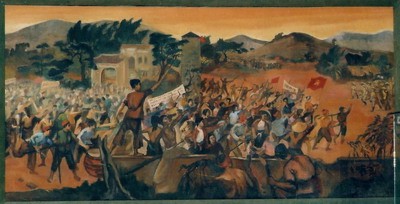 An oil painting depicts Nghe Tinh Soviet Revolutionary Movement formed by farmers in central provinces of Ha Tinh and Nghe An in 1930 to fight against French colonialists.
1930
Nguyen Ai Quoc wrote another letter to the Peasant International, reporting on peasant movements in seven southern provinces, including Gia Dinh, Cho Lon, Vinh Long, Sa Dec, Ben Tre, Thu Dau Mot, My Tho and two central provinces Nghe An and Ha Tinh.
Nguyen Ai Quoc judged that: "French imperialists have never oppressed farmer movements with such formidable violence like now. They burned and killed many red villages.
"Despite their savage acts, the farmer revolutionary movements continue to develop. Farmers Soviet has been established in several red villages."
He urged the Peasant International to help the Vietnamese farmer movement.
1945
President Ho Chi Minh attended a demonstration, "Resistance Day," in the square of Hanoi's Opera House to support the glorious resistance of Southern people.
In a speech to the crowd, the President said: "For justice and nation, compatriots nationwide are fighting to protect the nation's independence.
"We don't hate France and its people. We are determined just to fight against slavery and violent policies of French colonialists.
"We don't [want to] conquer any country. We only [want to] protect our country and against French conquerors. So we are not isolated. Those nations who love peace and democracy, small countries in the world are unanimous in our resistance war. Thanks to the nation's internal solidarity and support from friends around the world, we are surely to achieve the final victory."
On the same day, President Ho Chi Minh issued an appeal to Vietnamese in France.
In the appeal, he wrote: "We want the protracted resistance war to end in victory, we must involve all of our forces in the resistance. Facing risk of losing the country, we must sacrifice all of our own interests, feelings and even our life. If we are successful in mobilizing all people to take part in the resistance, the victory will surely fall into our hands".
1946
President Ho Chi Minh drafted an important document, "Urgent work," in which he stressed two essential points, "Resistance war for building the country" and "Protracting the resistance war." The two points were considered a lodestar for protecting national independence at a very difficult time.
The President pointed out particular duties to carry on the resistance: "Organizing guerrilla warfare everywhere; increasing production everywhere; we can withdraw from cities if needed but we must protect all of the countryside region.
"We were successful in organizing forces and bases to fight against French imperialists and Japanese fascists, even when we had nothing but empty hands and secret revolutionary activists. The South can resist for one year with only difficult terrains and bad preparation. Nowadays we have an army, people, advantageous terrains, stronger power, hence we are sure to achieve the final victory."
On the same day, the President visited Hang Than Primary School, praising teachers and students in its visitor's book: "Teachers and students work hard. That's very good."
By Duong Trung Quoc* and his assistants
The author is a historian and member of the National Assembly