1945
President Ho Chi Minh chaired a Government Council meeting to discuss vital issues like drafting the Constitution, checking the distribution of relief materials to people, and expanding production.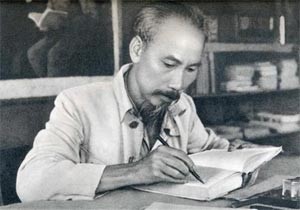 File photo of President Ho Chi Minh
1946
The President visited the head office of the Democratic Party, a political party that had cooperated with the Viet Minh (League for the Independence of Vietnam) in the general upraising of 1945.
He also visited the self-defense unit at Hoang Dieu Citadel, the capital's semi-armed force.
The same day he and his colleague Ton Duc Thang visited the "Department for Southern Affairs," the agency that coordinated activities to support the Southern people in their resistance against the French.
1948
The president sent a letter and a silk jacket to the head of the Politico-Military Department, Phan Tu Lang, a former official in the royal regime before 1945.
The letter read: "This jacket is a gift the Southern people offered me. I now give it to you. I wish you progress in fighting the enemy."
1950
In a letter to Marshal Stalin on the anniversary of Russia's October Revolution, the President wrote: "On your country's National Day, a happy day for workers all over the world, I, on behalf of the Vietnamese people and the Government of the Democratic Republic of Vietnam, send my warmest congratulations to you, the Government and people of the Soviet Union.
"We believe that the Union of Soviet Socialist Republics, under your leadership, will become more prosperous, thereby contributing to safeguarding world peace, developing democracy, and liberating small and weak countries." 
   
1962
Attending a Politburo meeting on fact-finding trips made by artists and writers, the President said: "These activities should not be compulsory. When they make fact-finding trips in rural areas, they must mix with peasants and must not behave like guests. Fact-finding trips will give us the chance to see how farmers live."
Discussing cultural and art activities, he said: "Without our revolution or resistance, there will not be a foundation for culture or art to develop. When we comment on cultural and art activities or on artists or writers, we must ensure our comments are proper and reasonable. When a person is given excessive praise or honor, he or she may feel embarrassed, even ashamed. When we are critical of an individual, our criticism must be precise and convincing."
On writing styles, he said: "Literature should be eloquent, profound, and truthful."
1967
In a letter of thanks to the Presidium of the Supreme Soviet of the Soviet Union for conferring the Order of Lenin on him, he said: "The US is stepping up its war invasion on our country. They are brutally killing our people in the South and North alike. Our people and soldiers are shedding their blood for their fatherland. In such a context, receiving the Order of Lenin makes me feel uncomfortable.
"For that reason, I thank you very much but I request you to postpone conferring the noble award until we defeat the US invaders and liberate the country. At that time, I will receive it on behalf of the Vietnamese people to. Best Communist regards!"
By Duong Trung Quoc* and his assistants
The author is a historian and member of the National Assembly