1945
In an "Appeal to people fighting starvation," published in Cuu Quoc (National Salvation) magazine, President Ho Chi Minh wrote: "The fight against starvation is like that against invaders and we will succeed in both, since every one of our people is willing to take part in them.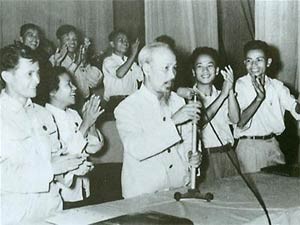 President Ho Chi Minh speaks at the second National Congress of the Ho Chi Minh Communist Youth Union in Hanoi in 1956 (File photo)
"You must have such initiatives that both ensure your tasks to be fulfilled and avoid losing the public's confidence in you. You should be the first to practice diligence, thriftiness, sacrifice and equality in order to set examples for the public to follow."
1946
In "Terrain," one of a series of his articles on "Sun Tzu's Art of War" in Cuu Quoc, the President stressed: "Different methods of conducting a war must be applied for different terrains. If we fail to change our method for each different terrain, we cannot win a battle. Differentiation of terrains will helps us conduct a war efficiently."
At a reception for a delegation of the Teachers' League the same day, the President said: "The fact that teachers often live in needy circumstances is not only seen in Vietnam but also in other countries. When the country's financial ability is improved, the Government must consider improving the living conditions of teachers, who take the responsibility to train talents for the country."
1958
Visiting the Hanoi Power Plant, the President advised: "To build socialism, it is necessary to step up production and practice thrift. To this end, we must have good management over these fields, and to improve our management ability, every cadre and worker must be equipped with clear thinking and a spirit of mastering our country in general and our business in particular."
1962
In "A new victory" in Nhan Dan (The People), the President praised the educational achievements gained by the northern province of Lao Cai. Once a place where 99 percent of the Meo ethnic minority people were illiterate, the province saw many of them go to school and many teachers of ethnic minority languages trained.
1965
In a letter to welcome the 10th anniversary of the Vietnam People's Navy's establishment, the President wrote: "As young as it is, the Navy, under the Party's sound leadership, with the public's confidence and support, and with its own constant efforts, has bravely killed US invaders, driven away their warships, and gunned down their attack planes. You sailors have also showed a spirit of solidarity in fighting and have tried to protect the people and the sky and sea of the fatherland. You have helped promote our nation's brave traditions."
1968
In a message to Cambodian King Norodom Sihanouk to welcome the country's National Day, President Ho Chi Minh wrote: "The consistent policy of the Democratic Republic of Vietnam is to respect the independence, sovereignty and territorial integrity of the Kingdom of Cambodia, in consideration of the current borderline."
By Duong Trung Quoc* and his assistants
*The author is a historian and member of the National Assembly