1945
 
Ho Chi Minh attended the fourth course-ending ceremony at the Vietnam Politico-military School.
 
He said: "While going to work, you have to learn not only from books but also at work. Thus, you need to remember the virtues an official must have: 1. Do not be arrogant and be plagued by the 'revolutionary mandarin' disease. 2. Be diligent in listening, viewing, thinking, speaking, and working. 3. Be progressive and ceaselessly study, practice, and remedy shortcomings. 4. Be faithful to the revolutionary goal of keeping the country independent and the people free."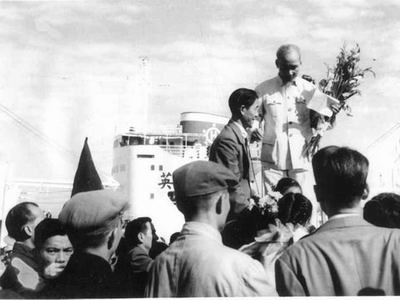 This undated file photo shows President Ho Chi Minh (top) welcome Vietnamese returning home from Thailand at Hai Phong Port.
1947
President Ho Chi Minh wrote to the French Social Party's cell in Saigon to express his view. 
He said: "The Vietnamese Government and people are always willing to end the conflict and establish peace once France formally recognizes our independence and unification." 
1948

At a Government meeting, talking about emulation, he said: "Many people have yet to understand emulation. The mass-education emulation movement has shown results because many officials, many of which work closely with people, have joined it. Therefore, in the campaign for emulation, paperwork and bureaucracy have to be avoided." 
1952
President Ho Chi Minh announced "Eight instructions by the Government of the Democratic Republic of Vietnam." 
1. Protect people's lives and property.
2. Protect people's occupation and business.
3. Confiscate property of the French enemy and traitors.
4. Protect temples, churches, schools, hospitals, and social and cultural organizations.
5. Reward deserving people and penalize those who are guilty.
6. Maintain law and order.
7. People, especially farmers, should be reorganized.
8. Protect foreign nationals' lives and property. 
On the same day, he sent a letter of encouragement to officials and soldiers taking part in the Tay Bac Campaign. 
He said: "This campaign is very important. You have to win and love and respect people, and be kind to them." 
He also encouraged volunteers. He said: "Volunteers are also soldiers and you have to achieve victory together with soldiers." 
1960

He went together with many officials to Hai Phong port to welcome a ship carrying the first 992 Vietnamese returning home from Thailand.  
On the same day Nhan Dan (People) published his articled titled "The older [people] get, the more patriotic [they] become." 
He wrote: "'Dien Dien Hong' is a glorious patriotic tradition of our nation, especially among our elders. When something happens to the country, the elders disregard their [physical] weakness and old age, diligently shoulder their responsibility, and urge their children to fulfill their duties." 
1965
On the occasion of China's National Day, he wrote an article on Nhan Dan to praise the two nation's tradition of showing solidarity during struggles. 
He wrote a poem which read:
Mối tình đoàn kết Việt-Hoa
(Vietnam-China solidarity)
Vừa là đồng chí, vừa là anh em
([The two countries] are both comrades and brothers)

By Duong Trung Quoc* and his assistants
* The author is a historian and member of the National Assembly