1927
In "The French Empire's rule in Indochina" published in Inprekorr of the Communist International, Nguyen Ai Quoc denounced the colonial regime's diabolical schemes that triggered conflicts between Vietnamese and overseas Chinese in the northern city of Hai Phong City. He also accused the French colonialists of causing sufferings to people, such as heavy taxes, starvation, and cholera.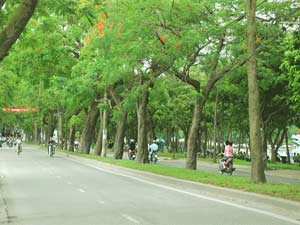 Thanh Nien Street in Hanoi, which was given the name by President Ho Chi Minh in 1958. (Photo: nguoihanoi)
1945
President Ho Chi Minh sent a letter of praise to the Children for National Salvation in the northern provinces of Quang Ninh and Hai Duong for donating the money meant for their breakfast to the Independence Fund.

He wrote: "You have proved that you are very deserving to be the offspring of the Dragon and Fairy* and to be the 'young masters' of the country.   

At a Government Council meeting the same day, he called for seeking ways to improve people's spirit so that they can manifest their patriotism through practical activities. He suggested using short, simple, and easy-to-do mottos for the purpose. 
  
The same day, Quyet Thang (Determination to Win) newspaper published Lao Prince Souphanouvong's feelings about President Ho Chi Minh: "He is a clear-sighted man. During my stay in Hanoi, he received me 30 times in an amicable manner. We have enjoyed meals with salted shrimp paste. We have also had talks lasting two or three hours. He seems to overwork that I am afraid he may fall sick…
1948

In "Individualism" in Su That (The Truth) newspaper, the President wrote: "People with the 'disease' of individualism are less disciplined in daily activities and are often confused when facing severe problems. They usually place their own benefits above common ones. The disease drives them to act against the nation's interests.

"To prevent and cure this disease, everyone from top to bottom must practice criticism and self-criticism in a friendly and practical manner. People's unity, the army's bravery, the political system's solidity, and leaders' cleverness are four elements that, if combined, will ensure success in our resistance war."
1949
In "Mass Mobilization" published in Su That (The Truth) newspaper, President Ho Chi Minh wrote: "Our country is a democratic one; all benefits belong to the people; all the powers belong to the people; renovating and building the country is the responsibility of the people; governments, from local to central, are elected by the people; agencies, from central to local, are developed by the people. In brief, all authority and force stem from the people.
"Officials in charge of mass mobilization must take practical action and avoid empty speeches and imposing documents on people. They must roll up their sleeves to work. Many major shortcomings have been caused by making light of the role of mass mobilization.
"The people's force is very strong, so mass mobilization is of great significance. If mass mobilization is done poorly, nothing else can be done well. When mass mobilization is done well, everything else will be done well, too."
1958

The President inspected work carried out by workers and students to expand Co Ngu Street in Hanoi and suggested naming it Thanh Nien (Youth) Street.

1968

In an open letter to mark the new school year, the President advised: "Whatever the hardships, teachers and students must continue to teach and study well and strive to obtain the most advanced scientific and technical knowledge soon."
* According to legend, the Vietnamese people are descended from a dragon and a fairy.  
By Duong Trung Quoc* and his assistants 
The author is a historian and member of the National Assembly