1921
At a regular meeting of the Intercolonial Union in Paris, Nguyen Ai Quoc reported on the revolutionary situation in North Vietnam, which had seen a  military uprising led by Luong Ngoc Quyen four years earlier.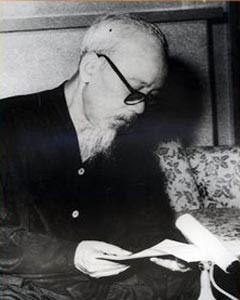 File photo of President Ho Chi Minh
He also denounced the colonial regime in Vietnam and pointed out that the notorious French Envoy Darles had committed many brutal crimes but was still backed by the French administration.
1923
At the International Farmers' Conference, Nguyen Ai Quoc was elected to the 52-member International Farmers Council.
1925
In a report titled "The farmers' movement in China's Guangzhou Province" under the pseudonym Nilovsky to the International Farmers, Nguyen Ai Quoc said farmers in the province had been organized into self-defense forces and had good relations with workers.
1947
President Ho Chi Minh completed a book titled Reforming Working Styles, in which he spoke about revolutionary virtues.
He said: "It is quite easy for a Party member or official to become a true revolutionary, since it is decided by only the thoughts of each individual. If our feelings are always with the Party and people, we will become public-spirited and selfless, develop our qualifications, and get rid of bad traits.
"Those qualifications are humanity, good deeds, intellect, bravery, and honesty. A river needs to be fed by a water source; without the water source, the river will dry up. A tree depends on its roots; without the roots the tree cannot survive. So is a revolutionary, who is required to have good virtues, since without them he or she will fail to lead the people."
1954
At a reception for a delegation of Hanoians, the President said: "Taking over the capital has been carried out relatively well … After 80 years under colonial rule and eight years of war against foreign invaders, we have now returned to a normal life in peace. It is a great change for us, we will face a lot of difficulties that are inevitable while rebuilding and developing the country.
"Out regime is a democratic one. Our people are the masters of the country. Our government is a servant of the people. The people are entitled to supervise and appraise the government's working … Solidarity is our greatest strength. We must unite closely."
1959
Attending a conference on winter-spring farming in northern Ninh Binh Province, the President emphasized the necessities for a good crop.
He summarized them in a poem as follows:
Ensure enough water and fertilizers
Use good seeds; plowing and transplanting must be done well
Do not forget to kill insects and mice
Farming implement should be renovated
Strengthen control over paddy fields
As long as all are accomplished,
Stores will be brimful with rice
1966
At a Politburo meeting on the revolutionary situation in South Vietnam, the President said farmers should not be required to contribute much to the revolution.
Regarding the political struggle for peace and national independence, he suggested adopting specific and decisive mottos. He said: "Peace and independence for Vietnam requires the US' withdrawal of troops. Total independence must be achieved. For us, peace must be closely associated with independence; we cannot accept a US-style peace."
By Duong Trung Quoc* and his assistants 
The author is a historian and member of the National Assembly