1945
In an open letter to the French in Indochina, President Ho Chi Minh wrote: "Dear French, I would like to talk with you, not as the President of the Democratic Republic of Vietnam but as a sincere friend of the honest French people.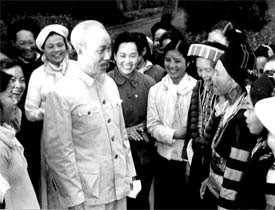 President Ho Chi Minh meets minority ethnic women representatives at the third Congress of Vietnam Women's Union in March 1961 (File photo)
"You love your country and its independence. Such patriotism makes you honorable since it is also the noblest ideal of humankind. Similarly, we must have the right to love our country and want it to be independent. We must have the right to love our compatriots and want them to live in freedom. What you see as your ideal is what we regard as our ideal, too.
"We do not dislike or hate the French nation at all. On the contrary, we respect your nation, the first nation in the world to disseminate the noble concepts of liberty and fraternity and a nation that has contributed greatly to the world's science and civilization.
"Recognizing Vietnam's independence will not lessen the prestige of France, but will promote that prestige in the world… That way, France will be respected by all other nations, including the Vietnamese nation that always longs for independence.
"Have you ever thought that too much bloodshed has occurred, that peace – a true peace based on equality and democracy – must take the place of wars, and that 'liberty, equality and fraternity' must be seen in every country, irregardless of race or skin color?
"We do not fear death, but we want to live as you do; we want to live in freedom, not being oppressed by anyone.
"Dear French in Indochina, it is high time for you to prove that you deserve to be descendants of your ancestors, who struggled for liberty, equality, and fraternity."
Attending a departure ceremony for 500 volunteer propagandists in Hanoi the same day, the President said: "Propagandists must understand the purpose of their tasks. They must accept hardship and be patient. They should not see themselves as revolutionary mandarins. They should try to present their ideas in a simple manner and should not use expressions that are hard to understand. Remember it is better to have 50 people who understand what you said well rather than 500 people who understand them vaguely."
1946
After staying in France for four months for negotiations with the French Government, President Ho Chi Minh returned to Vietnam aboard the battleship Dumont D'Urville and was received by people in the northern port city of Hai Phong.
About the event, General Vo Nguyen Giap's memoirs read: "There has never been any other time when the port's whistle touched thousands of people so deeply as this evening."
1962
In Hanoi, the President warmly received a visiting delegation from the National Liberation Front for South Vietnam led by Prof. Nguyen Van Hieu.
At the reception, he said: "The image of my beloved South Vietnam is always engraved in my heart."
1968
In a letter of praise to soldiers on Con Co Island in the northern Quang Tri Province for gunning down many US aircraft, the President wrote: "You have been very good, brave, and clever since within an hour you could shoot down as many as three US attack aircraft. Along with soldiers and people nationwide in the fight against the US invaders, you should continue to remain vigilant, fight better, and achieve more victories."
By Duong Trung Quoc* and his assistants
The author is a historian and member of the National Assembly